Soter Vineyards Wine – Featured wines through November 18th
Posted on October 16, 2014 in Food & Drink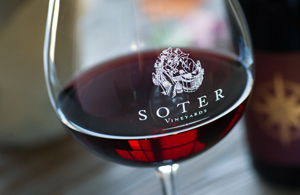 The Willamette Valley is Oregon's most recognized appellation for cool climate varietal wines and is famous for producing exceptional examples of the classic Burgundian varietals, Chardonnay and Pinot Noir. In the Northern part of this region, referred to as the North Valley, are sub appellations including Dundee Hills, Ribbon Ridge and Yamhill-Carlton. This area is rich in diversity of terroir over the rolling hillsides of vineyards. Wine gowers James Cahill and Tony Soter, along with North Valley partners, Brian Sypher and Michelle Soter sourced certified sustainable vineyards of real "Cru" quality for these personality driven wines.
Soter Vineyards team is dedicated to sourcing from and growing in certified sustainable vineyards and bottling in a certified sustainable winery. Meticulous, hands-on attention to farming practices throughout the growing season from flowering to harvest and minimal handling at the winery assures the quality expected from estate grown wines.
When tasting it becomes clear that the quality of the fruit and the commitment to the juice is passionate. From the apricot, mango and pastry spice notes on their chardonnay to the silky mouth feel and deep black cherry fruit of their pinot noir tasters always note the high level of quality and love put into each bottle. For a limited time you can order a glass or a bottle, close your eyes and experience the palate popping flavors and textures for yourself while enjoying the Dakota.
North Valley, Chardonnay, Willamette Valley, Or, 2012
– $15 Glass/$48 Bottle
Soter Vineyards Chardonnay palate leans toward the mineral driven, bright and racy reminiscent of Chablis. This vintage boasts some richness too with brilliant green-gold color and aromas of fresh tropical fruits and hints of crème brulee. Sleek on the entry the palate reveals Asian pear and stone fruits with a striking balance between creaminess and acidity.
Planet Oregon, Pinot Noir, Willamette Valley, OR, 2012
– $12 Glass/$39 Bottle
Winegrower, Tony Soter's mission for for Planet Oregon is to craft and bottle delicious young Pinot Noir that is fresh, silky and suggestive of Oregon summer fruits…cherries and berries of all kinds. It is 100% Pinot Noir.