Glen David Andrews at the Dakota 2/21
Posted on February 12, 2015 in Upcoming Shows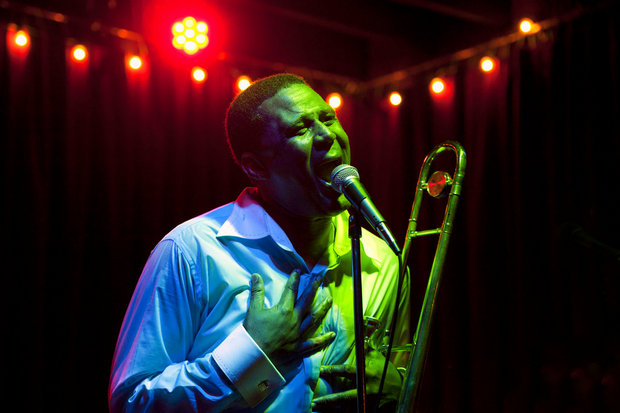 If you've never heard of Glen David Andrews aka the Treme Prince, that is about to change. Rising up from within a talented musical family in the historic Treme neighborhood in the 6th Ward New Orleans, Glen found out early in his childhood that his horn playing & singing would be a natural asset & resource for his life to come.
With cousins that include trumpeter James Andrews & Troy "Trombone Shorty" Andrews; a brother, Derek Tabb, who drums for Rebirth Brass Band, and his soul singing  grandfather, Jessie Hill, he comes from a long line of talented musicians.
Quite simply, Glen David Andrews is New Orleans. Being born & raised deeply immersed in the festive colorful culture, he & his evolving music along with his involvement with the music scene made stronger his connection to his roots & his growing influence on those around him.
Like some many other musicians, Glen has had his share of ups & downs over the years. Right now, in his early 30s, GDA is being raised up to his highest reaching peak of his life so far. With his most dark times & troubles finally behind him, Glen's career in music is deservingly the best it's ever been.
Andrews' high energy performances at clubs & festivals are increasingly being praised & noticed by more music fans from everywhere. His phenomenal style basks the New Orleans brass sounds of funk, blues & jazz heavily pronounced by his unique gospel sizzle that he brings to every stage.
Glen wrote the ubiquitous song "Knock with me (Roll with me)" which has now become a quintessential part of most New Orleans brass bands' songbook, frequently heard on the scene as a fun uppity explosive second line street anthem.
Glen's recent album "Redemption" (Louisiana Red Hot Records 2014) has widely garnered much positive acclaim & great worthy attention. Featured on this hot groundbreaking recording are fellow local luminary musician friends Anders Osborne, Ben Ellman (Galactic) & Ivan Neville (Dumpstaphunk, DragonSmoke) among others.
If your curiosity & interest in Glen David Andrews continues to grow, I hope you will melt away your winter blues by coming out to see Andrews warmly shine like only he can right here in Minneapolis at the highly esteemed Dakota Jazz Club downtown (Sat. Feb. 21, 2015. Shows 7pm & 9pm).
"It may have been the most raucous night in the history of the Dakota, (including both locations). It's the only time I've felt the floor move. People were standing on the mezzanine, the stairs, the bar, the doorways. They screamed. They jumped up & down. They raised their hands & shook their behinds & sang along."  ~Bebopified (Minneapolis)
~Timothy Paul Smith  timmy(at)chateaulafreak.com