Rebirth Brass Band | Wed. April 1, 7pm, 9pm
Posted on March 25, 2015 in Upcoming Shows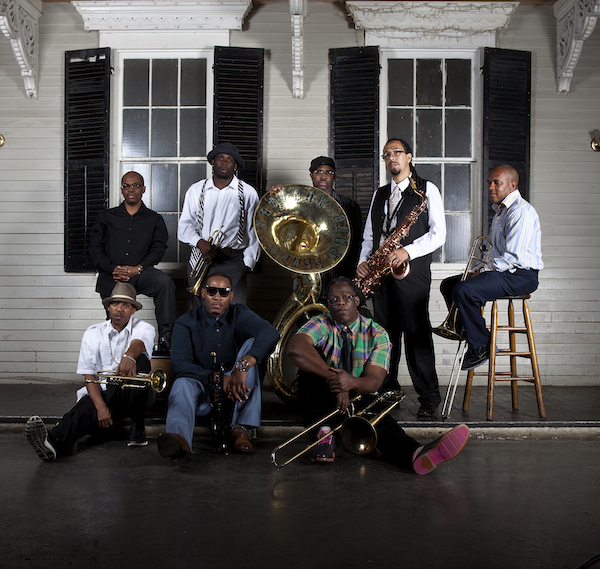 New Orleans must really love Minneapolis. This time the funky Crescent City is sending their beloved crown jewel torch bearers, the Rebirth Brass Band, to bring the party to the Dakota. With spring finally in the air, the Twin Cities is in desperate need of this high energy musical infusion from the deep South to reboot & bring us back to life.
For myself, it's also delightful "training", if you will, for my impending annual trek to the New Orleans Jazz & Heritage Festival a few weeks later.
After over 30 years in the making, Rebirth has forged a special place in the hearts of music lovers in New Orleans & beyond while becoming a truly essential vital component in their historically evolving and celebrated musical culture. Brass bands are definitive of the Big Easy, and Rebirth remains a strong, pioneering force.
Young brothers Keith & Phil Frazier, along with their trumpeter friend, Kermit Ruffins founded Rebirth in 1983 when they advanced their skills from playing in their high school marching band to playing outdoors on street corners in the French Quarter. Later entering the local clubs & festivals, and making a name for The Rebirth globally.
Seen as ambassadors of brass to the world, the 9 piece Grammy winning Rebirth Brass Band have enthusiastically carried the syncopated street funk torch from their neighborhoods to the greater outside world. Not to mention, thrilling locales from the Quarter to the Mardi Gras parades & parties to the world renowned New Orleans Jazzfest. Now the world is their oyster.
Don't miss this wondrous opportunity to feel the soul shaking spirit & rocking rampant rhythms of this phenomenal treasure of a band. The Dakota will be transformed into a real time lively New Orleans party. Rebirth goes out of their way to deliver to their audience a truly moving, fun & memorable experience at every show. Every time. Be prepared to be moved.
Keith Frazier (leader, bass drum): "Rebirth makes you move your body."
~Timothy Paul Smith :: timmy(@)chateaulafreak.com
Sources:
Rebirth Brass Band interview: Jan. 2015
Rebirth Brass Band feature from Jan. 2014
Local coverage of Rebirth in Nola