Progressive Jazz and South Indian Classical Music Collide
Posted on October 11, 2016 in Uncategorized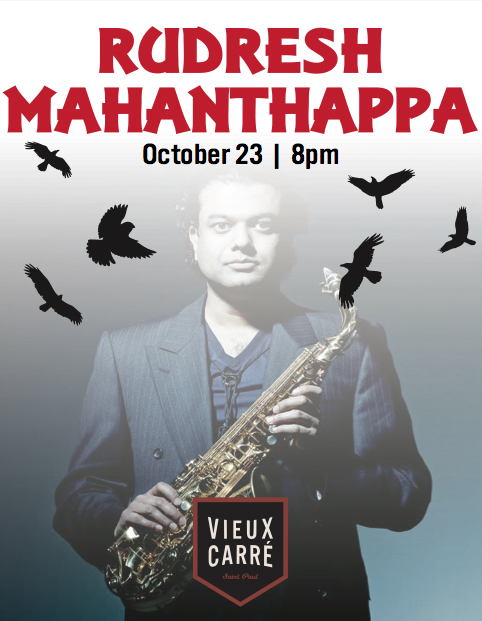 It's very rare for Vieux Carre to host national shows, as their focus is on the Twin Cities' wonderful local talent. But every once a while an opportunity to host an incredibly rare performance comes along, and they take it. Last year it was Dirty Dozen Brass Band and Stephane Wrembel, this year you'll be able to experience saxophone master Rudresh Mahanthappa in one of the most intimate jazz rooms in the midwest.
Few musicians share the ability of Rudresh Mahanthappa to embody the expansive possibilities of his music with his culture. The saxophonist/composer hybridizes progressive jazz and South Indian classical music in a fluid and forward-looking form reflecting his own experience growing up a second-generation Indian-American. Just as his personal experience is never wholly lived on one side of the hyphenate or the other, his music speaks in a voice dedicated to forging a new path forward.
The current manifestations of that trajectory include his latest project Bird Calls (2015), which was named #1 album of the year by both Downbeat and NPR Music's Jazz Critics Poll. In this 21st Century tribute to Charlie Parker, Mahanthappa trains his anthropological imagination on an equally important cultural influence: the music of Charlie Parker. With a stellar quintet of forward-thinking musicians, Mahanthappa offers an inspired examination of Bird's foundational influence and how it manifests itself in a decidedly 21st-century context.
Hailed by the New York Times as possessing "a roving intellect and a bladelike articulation," Mahanthappa has been awarded a Guggenheim Fellowship, two New York Foundation for the Arts Fellowships, and numerous commissions. He has been named alto saxophonist of the year four of the past five years in Downbeat Magazine's International Critics Polls and for five years running by the Jazz Journalists' Association. In April 2013, he received a Doris Duke Performing Artist Award, one of the most prominent arts awards in the world. In 2015, he was named a United States Artists Fellow.
Click here or call 612.332.5299 for tickets to this one-night-only event, October 23rd at 8pm.