Davina & the Vagabonds Mon. October 31, 2016, 7pm & 9pm The Dakota Jazz Club
Posted on October 31, 2016 in Music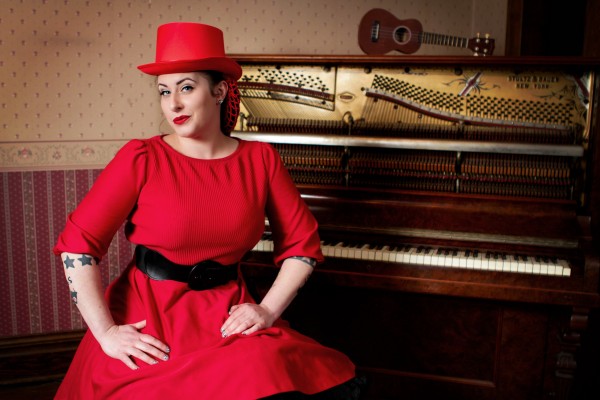 Davina Sowers is a true powerhouse among today's women singer songwriters. Over the years, her profoundly talented band Davina & the Vagabonds have amassed countless fans while achieving international presence & touring status. That said, Minneapolis is blessed to be the chosen hometown of Davina along with her fantastic fun accomplices. Here is a chance to come witness DATV's well deserved success at the Dakota for upcoming shows on Oct. 31, Nov. 25, & Dec. 31st. I couldn't urge you enough to attend & indulge in this moving soul provoking musical experience. Swing on in.
Davina's sultry saucy personality combined with her vintage stylish eccentricities fuel her energy enriched sensory pleasing beaming live performances. Davina & the Vagabonds have played almost all of the United States, some Canadian provinces & ten European nations with much more on the global horizon. A warm welcome is in order for Davina & the Vagabonds to the intimate setting of the Dakota on Mon. October 31, 2016 at 7 & 9pm. Treat yourself & those you love to this enchanting entertaining mystical music & merriment on stage.
Here is an exclusive podcast of my interview of DATV's founder & dynamic leader Davina Sowers, that was created by Brave New Radio. During the flowing conversation, we touched on topics like passion, life, music, family, hopes & dreams. Have a listen.
BUY TICKETS HERE:
Dakota Box Office: 612-332-5299
LISTIN TO THE DAVINA PODCAST HERE:
dakotacooks.com/event/davina-and-the-vagabonds-29/dakotacooks.com
MORE DAVINA:
davinaandthevagabonds.com
DATV on FB: https://www.facebook.com/Davinaandthevagabonds/
~Timothy Paul Smith :: timmy@chateaulafreak.com