CJ Chenier – Reigning Crown Prince of Zydeco at The Dakota Sat. Nov. 19
Posted on November 14, 2016 in Music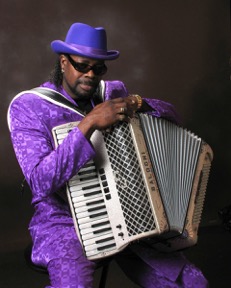 If you have ever heard of zydeco music, then it was likely in part thanks to the Chenier family. Get ready for CJ Chenier at the Dakota!
Their mission of the decades old movement was to bring the once obscure music to the greater world by playing & sharing the excitable culture everywhere possible including where it started. The intention was simple. You make people happy & they want to dance. CJ Chenier is the reigning crown prince of zydeco music. His dear father was the iconic Clifton Chenier, known as the undisputed Creole "King of Zydeco". CJ originally was a saxophonist when he heeded the call of duty to join his dad's esteemed band at the early ripe age of 20. At the time of his dad's passing in 1987, CJ took up the accordion to become the leader of the Red Hot Louisiana Band. The passing of the torch was monumental & CJ's road tested skills grew vastly with his talent increasingly on display.
C.J. Chenier & the Red Hot Louisiana Band
Sat. November 19, 2016, 7pm & 9pm
The Dakota Jazz Club
People who are near & dear to me know that I have a lifelong love affair growing with the enchanted music-centric city of New Orleans. That said, my mind & body have been open to the massive menagerie of music & culture emanating from this quintessential place since I first landed there 30 years ago. This blazing band was an early inspiration for me as they prompted manic dance parties wherever they went. Fast forward to now. Passionate fans like myself are more than ready for CJ Chenier & the Red Hot Louisiana Band to heat up the Dakota with their nonstop thrill ride on Sat. November 19, 2016 at 7 & 9pm. (Also playing: Under the Radar Foundation benefit on Sun. Nov. 20 at 5pm) Embrace the the sentiments of the late great Clifton Chenier & come on down to feel the shared happiness & dare to dance. You're sure feel the amazing vibe & be in truly wonderful company. Zydeco a-go-go!
Dakota Box Office: 612-332-5299
BUY TICKETS ONLINE
www.officialcjchenier.com
CJ Chenier on FB: https://www.facebook.com/cjchenierzydeco/
~Timothy Paul Smith :: timmy@chateaulafreak.com