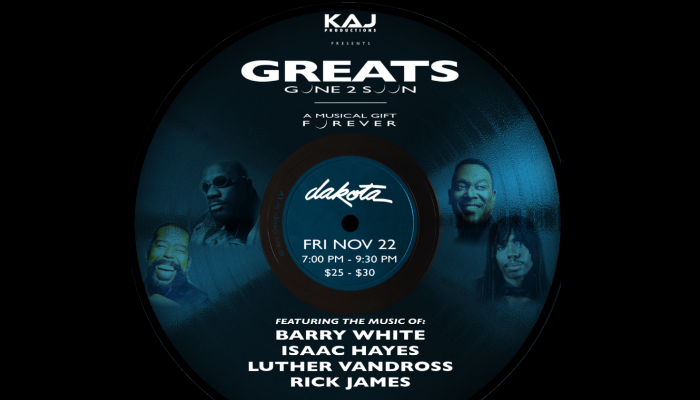 The KAJ Production team brings to the stage, real music by real musicians, and the everlasting music of: Luther Vandross, Rick James, Isaac Hayes, and Barry White
Featuring: Kirk Johnson & "The KAJ Orchestra", "MFellaz" (Lamont, David "Chill" Anderson, Roshewn Harrington, and Len Jones of "The sounds of Blackness" ), Germain Brooks, and Rhonda and Kathleen Johnson of the "Ma Muz".
Special guest: Johnnie Brown of "The Johnnie Brown Experience" and "Love TKO: Tribute to Teddy Pendergrass".
"Greats Gone 2 Soon" is a prolific and dynamic musical series of tributes that pay homage to some of the most soul stirring musical greats of our time. These productions are evident of how truly driven and inspired KAJ Productions is; serving music on a gold platter to music lovers, great musical artists of today, and the everlasting, beloved and distinguished musical talents of yesteryear.
Kirk A. Johnson "KAJ", is drummer extraordinaire, producer, songwriter, founder of KAJ Productions, leader of "The KAJ Orchestra", MD of "UniverSoul", and former drummer and dancer of Prince and The New Power Generation and Paisley Park recording artist.
Kathleen A. Johnson is an A-list lead vocalist of The Original Best Kept Secret ("BKS"), vocalist, Songwriter, musical mentor, vocal director, founder of Musicians4Musicians, co-founder of "Raisingthebar, an Artist's Loft", former session recording artist Paisley Park Studios, and co-owner of Wholesoul A Lavender and Sage Eatery Food truck.
Learn More: https://www.greatsgone2soon.com