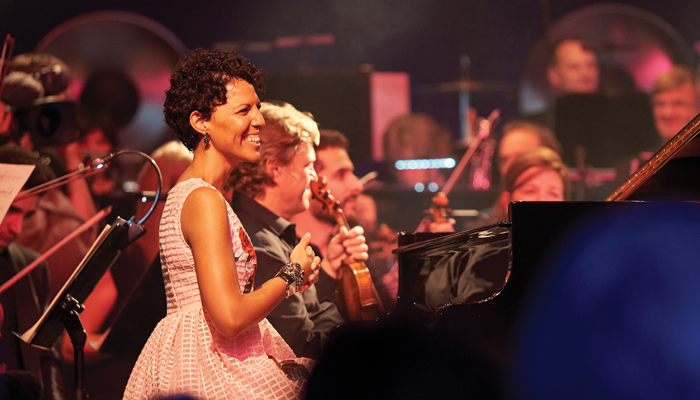 "Her own compositions are breathtaking, she can twist old Standards in a new way and the classical world is also familiar to her."
– Hifi-Stars Magazine
This trio is joined by Francisco Mela, cuban percussion star, who has dazzled Twin Cities audiences with his virtuosity as the former artistic director for the Twin Cities Jazz Fest.
Marialy Pacheco can surely be considered as one of the most prominent rising stars of the Jazz piano. Chucho Valdes once called her "the greatest of young piano talents." Winner of the Montreux Jazz Festival Solo Piano Competition in 2012, Cuban pianist Marialy Pacheco combines Caribbean temperament and excellent technique to produce a truly breathtaking music full of virtuosity, authenticity and joy in performing.
Members:
Marialy Pacheco (piano)
Francisco Mela (drums)
Yunior Terry (bass)
Join us for dinner before or during the show. Explore our menu >>  Did you know that we offer a premium seating option for those who pre-order a $39 food/beverage voucher? Call 612-332-5299 to learn more and order.

The biggest appreciation so far of Marialy Pacheco's qualities has been the winning of the Montreux Solo Piano Competition 2012. She is the first woman to win this prize in 15 years history of the competition.
Marialy Pacheco is the only female pianist in the currently row of famous Cuban jazz piano players like Roberto Fonseca, Omar Sosa or Gonzalo Rubalcaba.
In 2014, Marialy was announced as first female jazz pianist worldwide to be an official Bösendorfer Artist.
Marialy Pacheco has performed at national and international festivals.
Learn More: https://www.marialypacheco.com/