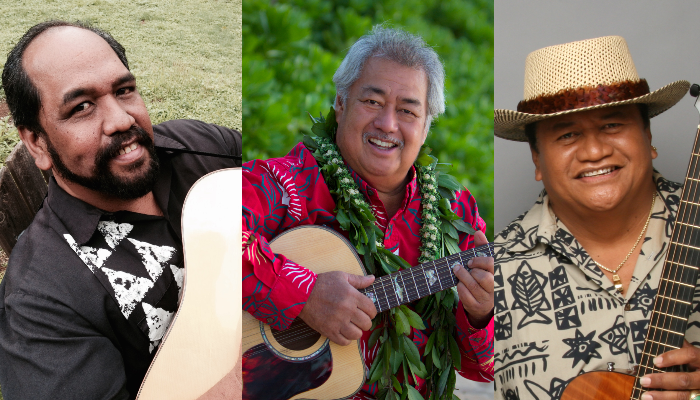 "Kahumoku is an affable raconteur, mixing his dialogue with passionate renderings of material."
– L.A. Times
Led Kaapana and Kawika Kahiapo are regular guest artists on George Kahumoku's renowned Masters of Hawaiian Slack Key Guitar series on Maui, and his Grammy award-winning CDs. Together, these Masters share the delightful experience of kī-hō'alu (slack key guitar) – the distinctly Hawaiian style of open tunings, 'ukulele, and Hawaiian vocals.
"Virtuosic keepers of a cultural flame." (The New York Times) Three award-winning masters, featured regularly at Maui's renowned "Slack Key Show", share Hawai'i's unique guitar styles, with origins in paniolo (Hawaiian cowboy) culture.
Join us for dinner before or during the show. Explore our menu >>  Did you know that we offer a premium seating option for those who pre-order a $39 food/beverage voucher? Call 612-332-5299 to learn more and order.
Learn More: http://kahumoku.com/