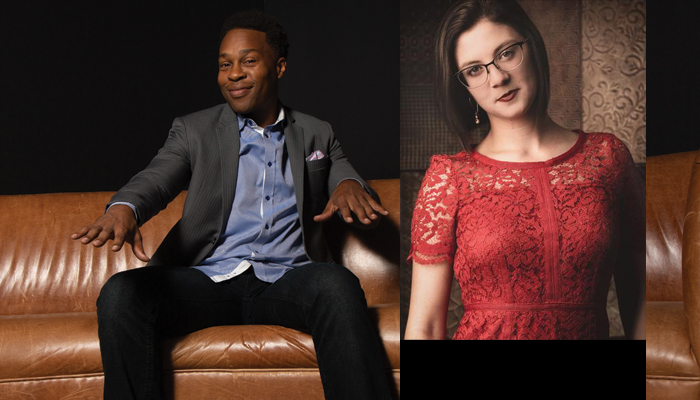 "There [is] no doubting the inventiveness, aplomb or authority of Johnson's work."
– Chicago Tribune
Featuring Alyssa Allgood (vocals)(http://www.alyssaallgood.com/)
If you don't know the name Ramsey Lewis and/or Nancy Wilson you may want to investigate them musically. I would be willing to bet you have heard of their music. Having put out musical hits such as "Peel Me a Grape" and "Save Your Love for Me" this combination is stunning. The question is have you heard Richard Johnson's renditions on these two wonderful artist?
Beginning December 2019, Richard Johnson will be touring with his new quartet featuring Alyssa Allgood, Jeremy Boettcher (bass), and Gregory Arty (drums). This group is bringing back the true feeling of swing and groove. With Alyssa's clear and soulful voice and Richard's hard hitting swing style of playing, this combination is sure to be sizzling. Sit back and relax. If you need to join in by joyfully responding with "Wooo Wee" don't be timid since this may add fuel to the musical fire.
Join us for dinner before or during the show. Explore our menu >>  Did you know that we offer a premium seating option for those who pre-order a $39 food/beverage voucher? Call 612-332-5299 to learn more and order.
Alyssa Allgood has a lot to be proud of. She has been described as an "impressive bop-oriented singer" by DownBeat Magazine and "an emerging talent of considerable strength" by The New York City Jazz Record.Allgood was recently named "Best Jazz Entertainer" in the 2019 Chicago Music Awards. Her performance accolades include appearances at the world-famous Birdland Jazz Club in New York City. She won the first Ella Fitzgerald Jazz Vocal Competition held in Washington D.C. in 2017.Other notable awards include being named a Finalist in the 2016 and 2017 Sarah Vaughan International Jazz Vocal Competitions, a 2016 Jazz Fellow through the Luminarts Cultural Foundation in Chicago and second place winner in the 2016 Mid-Atlantic Jazz Voice Competition. She also placed as a Semifinalist in the 2015 Shure Montreux Jazz Voice Competition; where she competed live in Switzerland for a jury presided by jazz legend Al Jarreau.
"Chicago singer Paul Marinaro said when she invited him onstage to duet with her, Allgood is 'one of the most fully formed young vocalists I've heard in a long time.' Judging by Allgood's performance, Marinaro may have referred to the high polish of her sound, control of her vibrato, creativity of her songwriting and naturalness of her scat singing." –Chicago Tribune"A fast-rising Chicago singer…Allgood combines an unpretentious stage manner with a sophisticated jazz sensibility. " –Chicago Tribune"..she is undeniably skillful at what she does. The expressive Chicagoan wears different hats, from scat singer to interpreter of familiar lyrics, to lyricist-and she shines in all of those areas…" –The New York City Jazz Record
Richard Johnson was a member of Wynton Marsalis' Septet and the Lincoln Jazz Orchestra, and has shared jazz worldwide as a United States Musical Ambassador by the U.S. State Department. He has been on tour and mentored by piano Legends Herbie Hancock and Mulgrew Miller. Currently he is Professor of Jazz Piano at Peabody Conservatory in Baltimore, MD.
Learn More: https://www.rjjazz.com