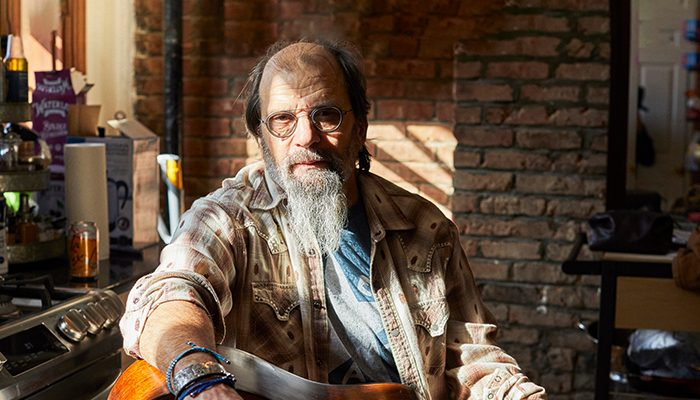 "Steve has a voice like a gravel driveway, a punk's steely bravado" – Pitchfork
Steve Earle is one of the most acclaimed singer-songwriters of his generation. A protege of legendary songwriters Townes Van Zandt and Guy Clark, he quickly became a master storyteller in his own right, with his songs being recorded by Johnny Cash, Waylon Jennings, Joan Baez, Emmylou Harris, The Pretenders, and countless others.
1986 saw the release of his record, Guitar Town, which shot to number one on the country charts and is now regarded as a classic of the Americana genre. Subsequent releases like The Revolution Starts…Now (2004), Washington Square Serenade (2007), and Townes (2009) received consecutive Grammy Awards.
Restlessly creative across artistic disciplines, Earle has published both a novel and collection of short stories; produced albums for other artists such as Joan Baez and Lucinda Williams, and acted in films, television, and on the stage. In 2009, Earle appeared in the off-Broadway play Samara, for which he also wrote a score that The New York Times described as "exquisitely subliminal." Earle wrote music for and appeared in Coal Country, a riveting Public Theater play that dives into the most-deadly mining disaster in U.S. history, for which he was nominated for a Drama Desk Award. Mr. Earle was recently inducted into the Nashville Songwriters Hall of Fame.
Earle's latest project, 2022's Jerry Jeff, is a moving tribute to another of his songwriting heroes, Jerry Jeff Walker. Earle delivers a gorgeous, soulful rendition of Walker's famous "Mr. Bojangles," and howls joyful takes of "Charlie Dunn," Walker's endearing tribute to the bootmaker, and "Gypsy Songman," his stomping busking anthem. Earle was also excited to include some of Walker's lesser-known classics – meditative ballads like 1969's "Old Road" and 1973's "Wheel."
Hailing from Pennsylvania with deep southern roots, if there's one thing about Zandi Holup that is certain—she is different. Her edgy, deeply emotional lyrics and unique voice set her apart. She sings about the good, the bad, and the ugly. Her music is a voice for the unheard. Listening to her raw but relatable story telling style, it is no surprise that she has been able to grow her grassroots following seemingly overnight, amassing over 300,000 followers on TikTok with videos garnering millions of views.
LEARN MORE: http://www.steveearle.com