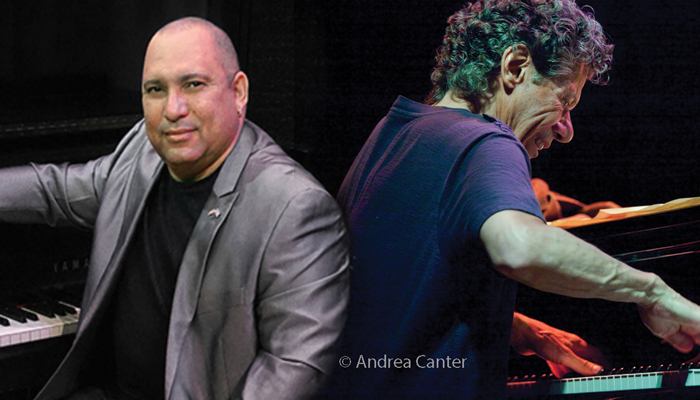 "One of the world's great Cuban pianists. [Nachito] blends jaw-dropping technique and rich, powerful soulfulness in an amazing display of musical power and emotion."
– TEDx Talks
Ignacio "Nachito" Herrera is acclaimed as one of the world's greatest Cuban pianists in command of traditional classical and contemporary musical idioms. In this special performance, Nachito pays tribute to the groundbreaking jazz pianist, Chick Corea, who passed away in February. In this show, Nachito honors this virtuosic keyboardist who broadened the scope of jazz during a career spanning more than five decades.
It was steaming hot on July 11, 1998 when Nachito Herrera and ¡Cubanismo! were playing their set at the North Sea Jazz Festival, and Nachito motioned to the backstage crew that he needed water. One person was transfixed at the edge of the piano watching the keyboard, and he immediately rushed to grab a bottle of water. At the end of the piece Nachito looked up and realized that the person who responded was Chick Corea.
Several years later, when Chick was getting ready to play at the Dakota, he was told Nachito was in the audience. He immediately asked that he be brought backstage, turning to Stanley Clarke and Lenny White and saying "this guy's an amazing pianist!" That mutual respect carried over the decade since they'd first met.
The link to this streaming event will be emailed to you 24 hours before the show and again, one hour before the show start time. If you do not see the link in your inbox, please check your SPAM and JUNK email folders. Please note, Nachito's show will be pre-recorded from his home where continues to rebuild his health after hospitalization with COVID-19.
"The Minnesota place that means the most to Herrera, however, is the Dakota … Over the years, he has played there solo and with various combinations of musicians, including duetting with violinist Karen Briggs and leading the Habana All-Stars and the Universals."  – Star Tribune feature, "Minnesota pianist Nachito Herrera on surviving COVID-19"
TO BUY A TICKET TO THE STREAMING SHOW, CLICK HERE >>
50% of the ticket price goes directly to the artist. If you wish to show additional support, simply select a button with the gratuity amount you wish to give below. Please note, this gratuity amount DOES NOT INCLUDE ACCESS TO THE SHOW. Purchase the show here >>