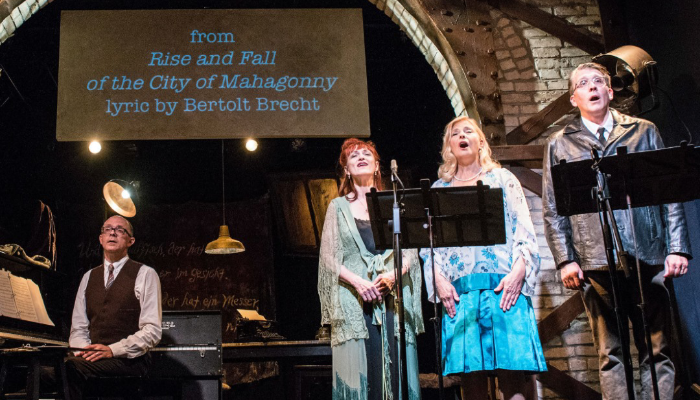 "the musical performances are ravishing"
– Talkin' Broadway
The creators of Dear Lenny: Bernstein's Life in Songs and Letters and '66: Talkin 'Bout My Generation, come back to the Dakota stage with When the Shark Bites, another multi-media theatrical concert hybrid infused with history, storytelling and sublimely beautiful music. When the Shark Bites tells the story of the brief collaboration between composer Kurt Weill ("Mack the Knife") and playwright Bertolt Brecht and their largely uncredited co-writer, Elisabeth Hauptmann, which produced the Threepenny Opera, one of the most influential musicals of the 20th century.
Members:
Dan Chouinard (piano)
Diana Grasselli (vocals)
Bradley Greenwald (vocals)
Prudence Johnson (vocals)
Carolyn Boulay (violin)
Tim Sparks (banjo, guitar)
Join us for dinner before or during the show. Explore our menu >>  Did you know that we offer a premium seating option for those who pre-order a $39 food/beverage voucher? Call 612-332-5299 to learn more and order.

Songs like "Mack the Knife," "Pirate Jenny," "Alabama Song," and "Surabaya Johnny." Artists as varied as the Doors, Tony Bennett, Bette Midler, Nina Simone, Eric Dolphy and Marianne Faithful, not to mention Weill's wife Lotte Lenya, have sunk their teeth into them, savoring Weill's gorgeous melodies and Brecht's meaty lyrics.
This timeless music was created for the Berlin theater during the Weimar Republic—the brief democratic period in Germany before the Nazis gained power. Audiences will leave with a deeper understanding of what compelled these artists to change theater, music and modern culture forever.