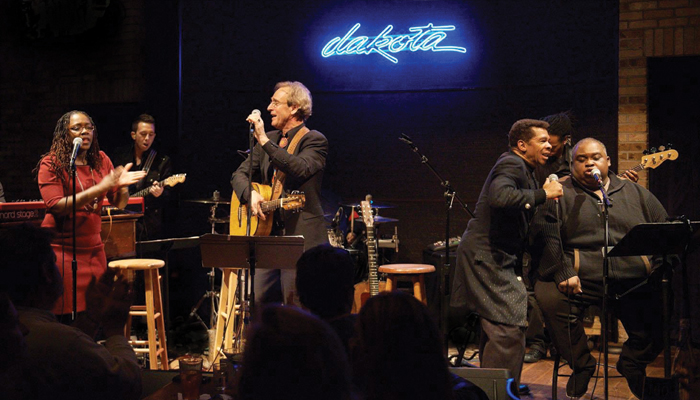 "You could think of the American Roots Revue as Larry Long's version of Bob Dylan's Rolling Thunder Revue. Well-known rockers, soul singers, folkies and other first-class musicians rotate through the line-up at different gigs, giving audiences the rare chance to see different artists collaborating on each other's songs"
– Martin Keller, Twin Cities Author & Journalist
Back by popular demand after debuting five years ago on the same stage, American Roots Revue's original cast has returned. That cast includes the 'Pavarotti of Gospel' Robert Robinson, R&B powerhouse J.D. Steele, 'Anishinaabe-Ojibwe Keeper & Singer of the Song' Waubanewquay Dorene Day, soul singer Tonia Hughes with "one of the purest voices this side of heaven" and the unstoppably gifted singer-songwriter Larry Long with a seasoned band of musicians. This is a not to be missed Twin Cities music event. American Roots Revue's superlative band is led by Billy Steele (keyboards), Joe Savage (pedal steel), Yonathan Bekure (bass), Brian Kendrick (drums), Daryl Boudreaux (percussion), George Parrish (guitar).
Before each show Long will debut the quirky and surreal new video for his song "All Across America," directed by St Louis Park filmmaker Buddy Cohen. The evening will also premiere the new release by Tonia Hughes entitled "Don't Give Up" and Larry Long's new anthem "Firefighter (Duty, Honor, Courage)," in honor of Minnesota firefighters.
Learn More: https://www.larrylong.org/