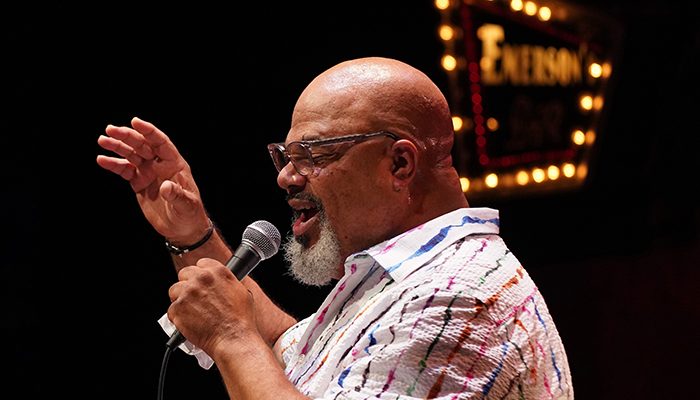 "local theater legend" – Music in MN
T. Mychael will lend his "signature voice" to creating an evening of scintillating interpretations of jazz standards; masterful re-imaginings of selections from the Great American Songbook; captivating renditions of soul and R&B favorites; and a tasteful offering from his highly praised musical theater repertoire.
A three-time Emmy Award-winning actor, vocalist, arts educator and community organizer; T. Mychael Rambo is a long-standing Twin Cities arts community pillar.
T. Mychael has made an indelible mark in the Twin Cities performing principal roles at such theaters as the Guthrie, Ordway Theatre, Illusion Theatre, Mixed Blood, Park Square Theatre, Ten Thousand Things, Children's Theatre and Minnesota Opera among others. His Penumbra Theatre credits alone include: Black Nativity, Don't Bother Me I Can't Cope, Dinah Was, Last Minstrel Show, Jitney, Spunk, Gem of the Ocean, Ain't Misbeheavin, Piano Lesson, and Ballad of Emmett Till to name just a few.
Nationally and internationally his stage credits include Carnegie Hall and performances abroad in Africa, Europe and South America. He has appeared in local and national television commercials, feature films (The Cure, Justice, Crossing the Bridge, Wooley Boys) HBO mini-series (Laurel Avenue, Equinox), and other television programming. T. Mychael is an accomplished residency artist (COMPAS, Young Audiences, MN State Arts Board, VocalEssence) and an affiliate professor in the College of Liberal Arts, Theatre Arts and Dance at the University of Minnesota.
As a recording artist, Rambo has released two popular CDs: 2004's Simply – a collection of jazz standards; and 2006's The Gift; A Christmas With Love – a selection of original and holiday classics. T. Mychael had the great honor of singing the National Anthem for President Barack Obama and former President Jimmy Carter. Mr. Rambo is also the proud recipient of the 2010 Sally Award in Arts Educator – presented by the Ordway Theatre, and the 2010 Minnesota Black Music Award. His other honors and awards include Young Audience Artist of the Year, McKnight Theatre Artist Fellowship, Minnesota State Arts Board Artist Fellowship, Bush Finalist, the University of Minnesota Century Council Community Award and Outstanding Community Service Award.
T. Mychael Rambo, vocals
Sanford Moore, piano
Tommy Barbarella, keyboards
Yonathan, bass
David Feily, guitar
Peter Vircks, saxophone
Kevin Washington, drums
Daryl Boudreaux, percussion