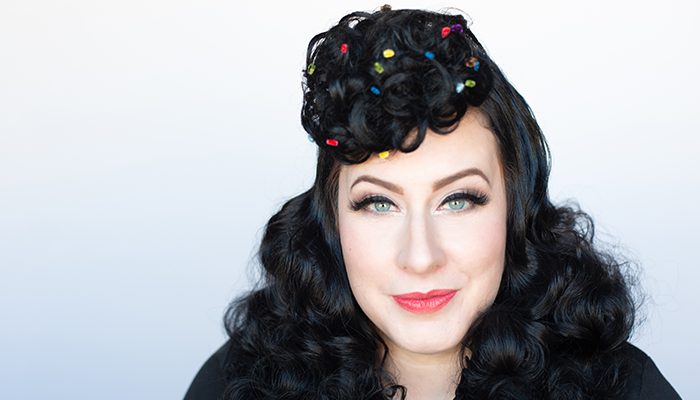 Ticket includes show, $20 food/beverage voucher + midnight bubbles
"This music, as retro as it may be at times, feels fun, frisky and alive." – American Songwriter
Much like the music, the story spurns era, expectation, and classification. The often unbelievable, sometimes harrowing, and wholly inspiring journey of Davina Sowers gave birth to her eponymous band Davina and The Vagabonds in 2004. As the tale goes, she grew up in the economically depressed Allegheny town of Altoona, PA, which she now describes as "awesome in the industrial era, but horrible for high school." She was adopted by her much older stepfather when he was in his 80s; he passed away when she was just 13. Through him and his Edison phonograph, she first heard The Ink Spots, Sidney Bechet, Louis Armstrong and Louis Prima, Sister Rosetta Tharpe, and many others. "Great man. He was my angel and still is," she says.
On her own, she vividly recalls hours in front of the record player where she religiously spun Led Zeppelin, Black Sabbath, and Simon and Garfunkel records belonging to her folk singer mom.
To this day, Davina still refers to music as "my first and eternal love." Despite early dalliances with classical piano and guitar, she developed a heavy drug habit in high school, which morphed into heroin dependency, left her homeless, sent her in and out of jail, and brought on all manner of trouble. Kicking dope on the streets, she "got clean, started the band, and worked [her] ass off every day since."
Davina and the Vagabonds shine every time they play. To date, they've performed in forty-five states, twelve European countries, and two Canadian provinces. Not to mention, they've earned feverish acclaim from the Chicago Tribune, NPR, and more in addition to performing on BBC's international favorite late-night program Later… With Jools Holland and appearing on PBS's Bluegrass Underground.
Recommended for Fans of Pokey LaFarge, Preservation Hall Jazz Band, The Hot Sardines and Squirrel Nut Zippers.
Learn More: http://davinaandthevagabonds.com/