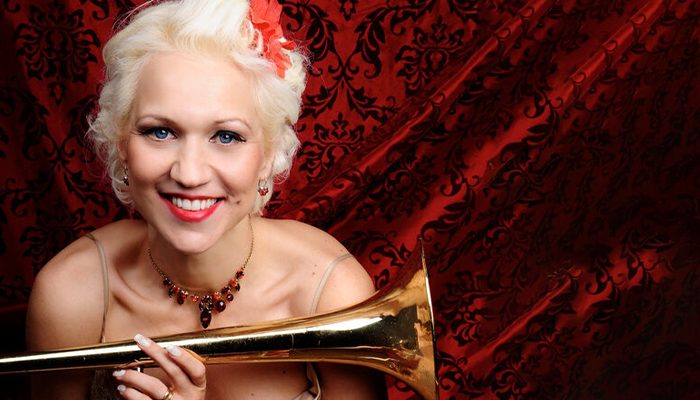 NEARLY SOLD OUT. Please contact the box office at 612-332-5299 for seating options.
"Gunhild is a shimmering presence, and she performs with vivacious flair and boldness!" – Jade Manson Arts News
Swedish musical sensation Gunhild Carling is an internationally acclaimed superstar whose show is a can't-miss event! Whether she's singing her favorite swinging jazz standards, playing one of many instruments (trumpet, trombone, harmonica, oboe, harp, flute, recorder, or jazz bagpipe!), or juggling and tap dancing, Gunhild's sublime showmanship shines. And just wait for the finale – spoiler alert – she plays three trumpets at once!
Carling competed as a celebrity dancer in Let's Dance in 2014 on TV4 placing third. She also appeared on Sweden's Dancing With The Stars. Gunhild performed for Sweden's Got Talent in 2017 and on America's Got Talent in 2019.
She recently performed with her Carling Big Band at the Royal Palace in Stockholm in the celebration for King Carl XVI Gustaf's Ruby Jubilee. Performing such great memorable vintage songs such as "Minnie the Moocher," "Sweet Georgia Brown," "All of Me," "It Had to Be You," and an endless repertoire of songs, Gunhild masterfully takes you back to another era like a time machine.
Between touring with her own band, she performs in several configurations from solo to orchestra to symphony and as a featured singer and multi-instrumentalist in several of Postmodern Jukebox's songs, including a 1920s jazz swing version of "Material Girl," and a 1920s hot jazz cover of ABBA's "Dancing Queen." Gunhild Carling keeps serenading audiences in the US and all around the world today.
Recommended for Fans of Pink Martini, Chris Botti, ABBA and Alison Balsom.

LEARN MORE: https://www.gunhildcarling.net/