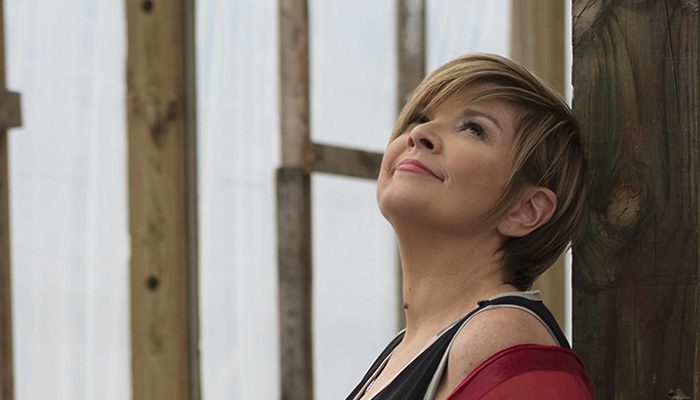 "She brings a timbre that is part ice and part grain — incisive, original, and emotionally convincing." – Village Voice

Adding to her lovingly long list of Brazilian songs, 5-time Grammy nominee Karrin Allyson embarks on another Brazilian adventure. This soon-to-be-released album will be recorded with very special guest, the great singer, composer and guitarist Rosa Passos. Karrin and Rosa have long admired each other's work and together will record one of Rosa's beautiful compositions, "Dunas" (with a new English lyric penned by Karrin and fabulous drummer Rafael Barata) and also the classic "O Grande Amor" with English lyric by Chris Caswell.
Karrin and a stellar group of Brazilian instrumentalists Rafael Barata (drums), Vítor Gonçalves (accordion & piano), along with the venerable American bassist Harvie S. will continue with other Brazilian classics such as "Manha De Carnaval", "Flor de Lis" (Djavan), "So Many Stars", "Wave", and "Guarde nos Olhos" (Ivan Lins), among others.
Throughout her fifteen albums, Karrin Allyson, five-time Grammy nominee in the Best Jazz Vocalist category, has demonstrated an uncanny ability to 'get inside' a lyric — to take over a song and reshape it into something magical.
"Ever since her impressive debut (I Didn't Know About You, 1992) Karrin Allyson has successfully pulled material from both the pop and jazz world and it all works well with her voluptuous huskiness and rhythmic sensibility." – Roger Crane, The International Review of Music
Stephen Holden, in a New York Times concert review, praised Allyson as "one of the most grounded singers working today," with an "exceptionally keen eye for the smart, semi-obscure pop or jazz number that speaks directly to the moment." In his Wall Street Journal preview, writer Will Friedwald buzzed, "she sings with amazing subtlety." And in his lead JazzTimes Magazine CD review, Vox critic Christopher Loudon said Allyson's songs "shimmer with tender vibrancy."
LEARN MORE: https://karrin.com/