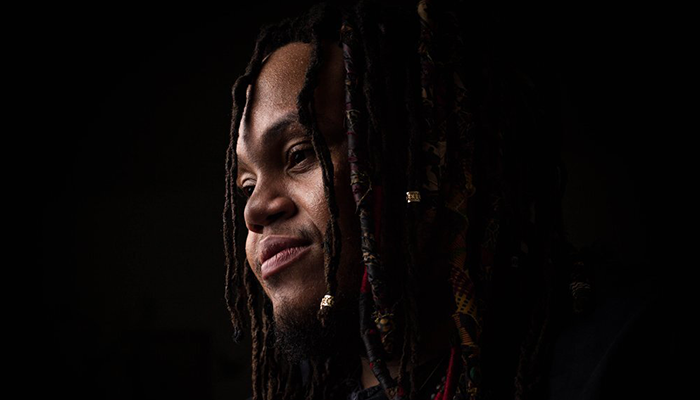 "If neo-soul is once more having a moment, then MMYYKK is its new high priest. His understated tunes are slinky-supple and sound not unlike D'Angelo being strapped to a spaceship." – Guardian
MMYYKK (pronounced "Mike") is a multi-instrumentalist, vocalist, songwriter and music producer from Inland Empire CA, and currently residing in Minneapolis, MN. MMYYKK's eclectic and forward-thinking sound situates itself at the intersections of soul, jazz, electro and R&B, blending analog synthesis and neck-breaking rhythms amalgamated with sonic alchemy. His musical explorations center themselves on themes of love, humanity, healing, and higher consciousness. He is also 1/4th of the psychedelic funk collective astralblak and 1/4th of the space jazz collective The BlackBeat Theory.
Mychal "MMYYKK" Fisher began his creative artistic journey as a child, learning to play whatever instruments he could get his hands on; playing drums in the church, and eventually producing beats for friends and family. He has since become a multi-instrumentalist developing his technique in piano, bass guitar, percussion, and alto saxophone. MMYYKK's musical journey continued after he decided to take a leap of faith and move to Minneapolis to attend The Institute of Production and Recording, obtaining his degree in Audio Engineering in 2012. Since graduating, he has gone on to produce and engineer music for a plethora of artists locally and nationally.
In 2015, MMYYKK discovered he had a passion for synthesizing sounds and sound design after purchasing his first analog synthesizer. His music has since been defined by his creative use of analog synthesis. It was through this discovery that MMYYKK found his passion for sound healing, and continues developing his use of sound and music as a therapeutic practice for himself and his community.
LEARN MORE: https://www.mmyykk.com/