October Artist Wine Lunch
Posted on October 2, 2014 in Food & Drink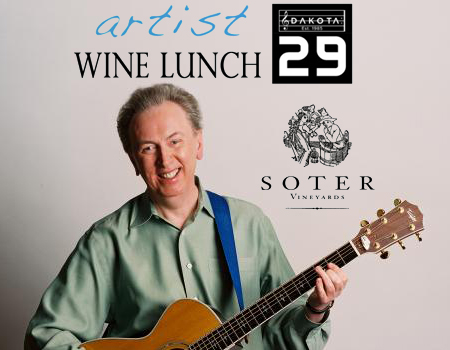 The Dakota's October Artist Wine Lunch will be hosted Wednesday the 8th, and will feature special guests, Al Stewart and Brian Sypher of Soter Vineyards. You will have the opportunity to sit down for lunch and chat with Al and Brian while enjoying a 3 course menu designed by our Chef Derik Moran, and paired with wines by our Sommelier Martina Priadka. Guests also receive a truffle created by Pastry Chef Katie Elsing. This experience can be yours for $39.
Brian Sypher brings a breadth of knowledge to the sales and marketing team at Soter Vineyards.  From San Francisco to New York, his experience ranges from restaurant management and fine dining to overseeing the finest domestic wines portfolio in the country.  As a vineyard site, Mineral Springs(where Soter Vineyards is located), has an extremely compelling confluence of prime exposure, location and uniform, well-drained sedimentary soils. The vineyard is planted between 380 and 440 feet in elevation and is flanked to the west by the coast range, which offers a natural weather barrier and creates a relatively dry and warm microclimate.
Al Stewart is a singer-songwriter and folk-rock musician who rose to prominence as part of the British folk revival in the 1960s and 1970s. He developed a unique style of combining folk-rock songs with delicately woven tales of characters and events from history. Stewart is best known for his 1976 hit single "Year of the Cat", the title song from the platinum album of the same name.