Red Baraat | Mon. June 8, 2015 7pm
Posted on June 3, 2015 in Upcoming Shows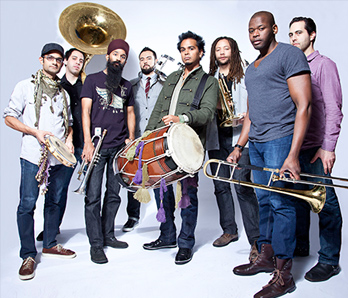 Date:

Monday, Jun 8, 2015

Time:

7:00pm

Cost:

$33-27
BOX OFFICE 612-332-5299
Music creates endless possibilities & nowhere is that more evident than in the rising, swiftly blossoming musical legacy known as Red Baraat from Brooklyn, NY. Anyone who has experienced this band live will confirm the truth; that you are forever changed at that moment. Allow me to elaborate. Having witnessed RB at some of the top music festivals of our time & scene, I know their strong magnetic allure & now want to share my joy felt for them to shine & grow. Mystically, they have something within them that other bands don't have. Naturally, feeling this music & dancing prove more important than understanding what or why.
Often times when a particular band is impossible to describe in a few words, it is a complex and beautiful thing. Especially when like Red Baraat, you are a party mad, sexy, syncopated, Eastern inflected, Indian brass & drums driven Bollywood tinged world beat roots funk hybrid. See what I mean by complex?
Red Baraat's much deserved accolades & increasingly high profile status has only elevated over time for their spectacular musicianship & showmanship on stage. Their eccentric, pleasure seeking entertainment is refreshing to the adventurous 21st century. Red Baraat's unique electric shows defy imagination, while their daring records jump genres, engaging the audience, body and soul.
Since their conception in 2008, RB's upward whirlwind romance with their loyal fans have helped them to gain posting exposure nationally to internationally. Their worldly music is about moving the body, along with taking risks. For your own sake & growth, please take a risk. Show up to the Dakota on Mon. June 8, 2015 to see the one & only Red Baraat. You'll be thankful you did. In turn, I will be grateful they are finding new fans.
NPR: Red Baraat "The best party band in years".
Timothy Paul Smith :: timmy@chateaulafreak.com
Dakota Jazz Club: Box Office 612-332-5299