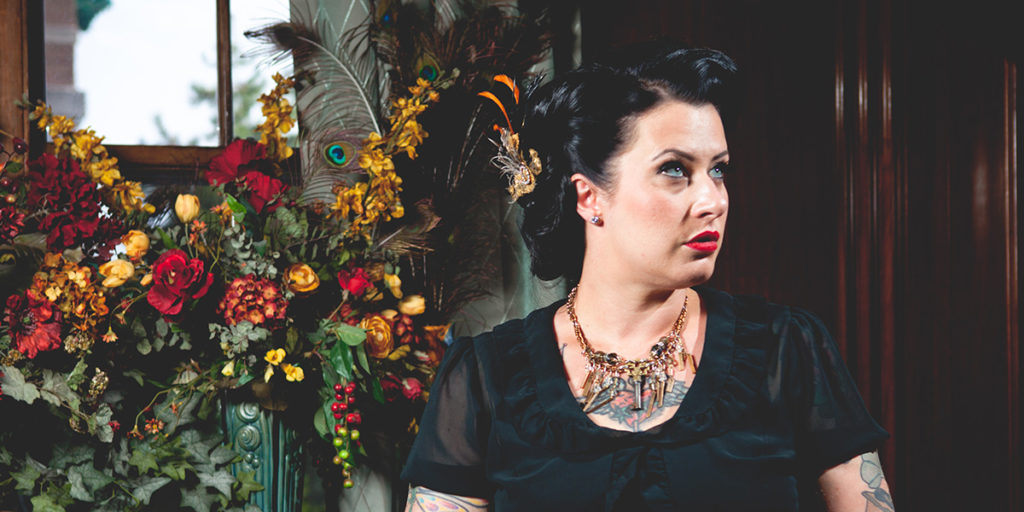 Davina brings music to life on stage. Her skilled sultry exquisite singing & engaging piano playing breathe wonderment & weave indulgent idiosyncrasies into every live performance with the dynamic playful interplay of her sensational backing band the Vagabonds.
The first time I ever met my now dear friend Davina Sowers was after I had just seen her rising powerful band Davina & the Vagabonds at Jitters (in Minneapolis). I can recall feeling her natural spark instantly & I knew that her warm wondrous presence in my life would only grow. Fast forward to now. That has so wildly happened. And as our friendship deepens, I am even more of a fan all the time.
DATV, which Davina formed in 2006, are touring the world constantly as well as keeping their local & regional presence strong perpetuating growing loyalty built up over time. Reluctant to comparisons, Davina says "I'm just being 100% myself. Just really high energy & I wanna be a storyteller & I just wanna make people smile." On wanting to tell stories with music: "I think that storytelling has been lost. And I feel that I wanna convey the feeling of the story & the truth of the story. And that's what I write about." I agree that storytelling has been lost & music is an amazing way to bring it back.
Davina's career has skyrocketed since my first exposure & I'm so proud & thrilled for her & the amazing band. She deserves all that has positively come her way along with more into her approaching bright future.
The Vagabonds command an emerging interest from swing dancers near & far. These dancers will be the first to tell you that dancing is a defining part of the DATV experience. The vibrant music is eager to please all in the audience, especially the dance floor or any other available space.
Davina strikes me as one of the most passionate driven forces I've ever encountered or met. She's a real dynamo & a warm human magnet for talent & musicianship, which is wonderfully portrayed in her band the Vagabonds: Davina Sowers, Dan Eikmeier, Connor McRae Hammergren, Zack, Matt Blake, Ben Link & original trumpet Zack Lozier.
When I spoke to Davina recently, she was captivating crowds & growing fans on another whirlwind European tour, her third of 4 runs over there just in recent months. She beamed "I owe a lot of my local success to the Dakota. It is truly a gem. I feel at home with my family when I play there. I never want this magical venue to stop being a mainstay on my calendar."
Excitement is certainly mounting for Davina's return to the Dakota stage. Her 2014 full length record "Sunshine" has been very enthusiastically received everywhere & her new live at the Dakota release "Nicollet & 10th" is on the near horizon.
Upcoming DATV Dakota shows: Thur. Oct. 29, Thanksgiving Nov. 25, 26, 27. New Year's Eve Dec. 31, 2015
~Timothy Paul Smith :: timmy@chateaulafreak.com
Dakota Jazz Club: Box Office 612-332-5299