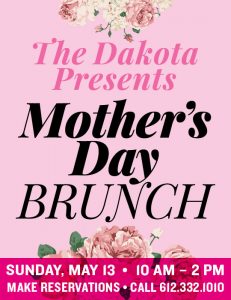 Unsure how to thank the woman that raised you into the kind, music-loving individual you are today? Say it with brunch. Join us on May 13th for a New Orleans-infused Mother's Day musical experience dedicated to celebrating mom, spring, and the joy of eating breakfast after 10am.
As always, our Mother's Day music will be provided by Southside Aces, the Twin Cities' top purveyors of traditional New Orleans Jazz. The Aces appear frequently at the Dakota, as well as our St. Paul location Vieux Carré, and anyone who has seen them live can attest – they are an infectious source of joy. Since their formation in 2003, the Southside Aces have recorded five CDs and played countless gigs, bringing authentic NOLA dance-hall style music to the bold north in style.
Chef Derik has prepared a special menu for the occasion. If you are looking for something hearty, the always-popular Steak Frites might be calling your name. For the Francophiles we are also offering our take on Quiche Lorraine complete with bacon, swiss, red pepper and chive. Those looking for lighter fare might consider our Steel Cut Oats or, for the adventurous eater, the Bananas Foster Pain Perdu. Additionally, guests can choose from a variety of house-made pastries and desserts.
Reservations are going fast, so take this opportunity to reserve a table for Mother's Day now. There are a million ways show her you care, but this might just be the best one.
Call 612.332.1010 or click HERE to make a reservation.