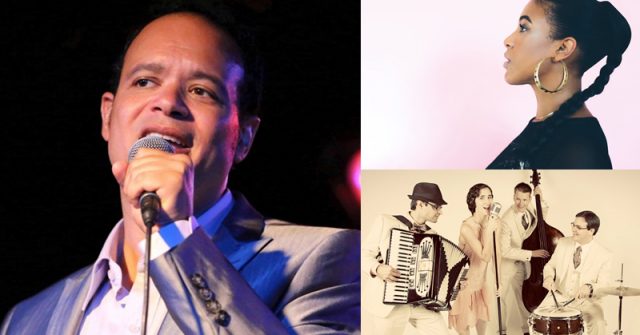 Valentine's Day can be celebrated in many ways, and this year the Dakota and Vieux Carré have three ways for you to celebrate your love of love: a four-course dinner with a tribute to Johnny Mathis, a 9:30pm late-night set for lovers by the irresistible Mina Moore, and songs of love (with a nod to the City of Love) with Belle Amour. 
Starting with a four-course dinner created by Chef Derik Moran (see the menus including live sea scallop and king trumpet) and a show early in the evening, the Johnny Mathis tribute will feature two Twin Cities legends in their own right as Kevin Kirkendahl (of the popular "Kevin Sings Johnny") with special guest Debbie Duncan, come together to perform some of Mathis's romantic hits. Mathis's music gained popularity in the '60s and '70s as one of the unique styles of adult contemporary with hits like "It's Not for Me to Say" and "Chances Are" – not unlike a softer version of Frank Sinatra or a romanticized Sam Cooke.
His incredible vibrato is something that only Kirkendahl is fit to replicate, and the sounds of his feathery melodies were made for a venue like the Dakota. The Dakota's intimate environment coupled with Mathis's stripped down style is sure to make for a romantic evening to remember.
For those looking to celebrate into-the-night, set the mood with Mina Moore's hybrid of soul and R&B at 9:30pm. Moore will sing a variety of songs for lovers, including music from her long-awaited debut, Amongst Ourselves, which features hidden gems like "Mori" and "Helaina (Amanhã)" that will move the room through the varying phases of passion.
Moore's charming stage presence effortlessly ebbs and flows between enticingly intimate and casually conversational, making for an engaging performance all-around. Her music pivots in and out of influences ranging from Prince to Amy Winehouse, resulting in a sultry sound unlike anything else.
If dinner and music is your idea of an elegant evening on the town, join us at 6pm for the Johnny Mathis tribute, which includes the concert and an extravagant four-course meal for $90. Dinner comes with a choice from two different menus created especially for Valentine's Day. The omnivore menu includes smoked duck heart, live sea scallops, fried clams and boudin blanc, and pork tenderloin, topped off with pot de crème for dessert. The vegetarian menu includes smoked beets, heart of palm, vegetable tempura, and king trumpet, as well as pot de crème. (Drinks, tax and gratuity are extra.)
If you are a late-night diner (or prefer dinner at home), kick-up the fun and reserve your tickets for Mina Moore's show at 9:30pm for $20-25.

And for our St. Paul lovers of speakeasy-style entertainment, join the vintage band Belle Amour for a three-course Valentine's Day Dinner at Vieux Carré where you can choose between a main course of beef rib rib or eggplant and end with a sumptuous pot de crème. ($71 table/$68 bar seating per person includes food, music, tax + gratuity.)
Whether you're happily hitched or single and seeking, these shows at the Dakota and Vieux Carré and have the makings for an evening that will remind you why we love romance.
More on the Johnny Mathis Dinner Show >>
More on the Mina Moore Late Show >>
More on the Belle Amour Dinner Show >>