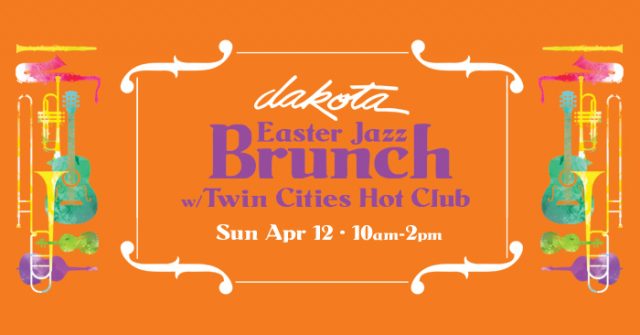 To make reservations, please call 612-332-1010 or visit OpenTable online >>
Please note: $5 cover per person will be added to the bill at the event.
The Twin Cities Hot Club (TCHC) represents Minnesota in the burgeoning revival of gypsy jazz originally popularized by Django Reinhardt, Stephane Grappelli and the Hot Club of France. They recreate not only the famous la pompe that distinguishes this romantic brand of acoustic jazz but also gypsy bossanova, musette, bolero, and swing. TCHC perform this timeless deep-rooted music that is physical, alive and speaks directly to the heart.
BRUNCH MENU:
Mains 
Moules Frites 17
bearnaise . asparagus . cornichon . white ale . garlic
Dago 18
merguez . scallion aioli. tomato . fries
Steel-Cut Oats 15
yogurt . granola . berries . spiced milk
Smoked Whitefish Omelet 20
wild arugula . caper . horseradish.  wild rice . bechamel
Steak & Eggs 28
tenderloin . hashbrown . herb butter . onion . demi-glace de veau
Eggs En Cocotte 19
gruyere . wild mushroom . truffle . baguette . greens
Pain Perdu 16
red fruit . cream cheese . bacon . maple
Romaine Salad 16
spring vegetables . goat feta . brown butter vinaigrette
Crepe Compete 17
herbed ham . egg . fontina . arugula
Pastries 4
Cheddar Scone
Loaded Cornbread
Cream CheeseMuffin
Strawberry +  RhubarbTart
Chocolate Croissant
A la Carte Sides
Bacon or Kielbasa 4
Herb Roasted Potatoes 3
Two Eggs 3
Fruit 3
Baguette Toast 2
Sweets
Chocolate Peanut Butter Truffle 10
Passion Fruit Posset 10
1919 Root Beer Float 8
Ells Irish Cream 8
Ice Cream/Sorbet Trio 7