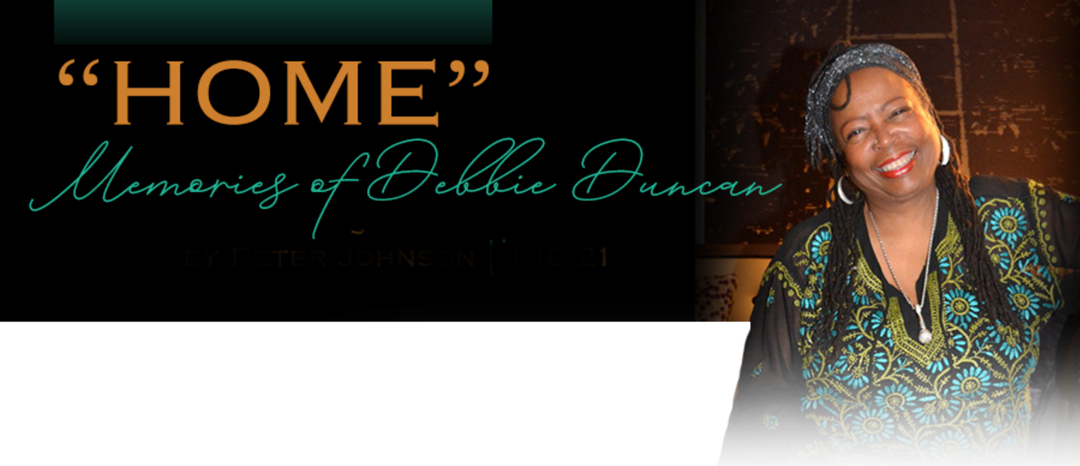 It is incredibly difficult to express the depth of our community's loss with Debbie Duncan passing. As an artist and collaborator of the highest quality, an enthusiastic supporter of other musicians, and as a friend, Debbie touched tens of thousands of us over her nearly 40 years in the Twin Cities. Peter Johnson, who played the central role in bringing her to Minnesota, wrote this heartfelt piece. – Lowell Pickett
When we were in our twenties, Debbie Duncan and I had each moved out to Los Angeles from our respective Midwestern home towns, because L.A. (or New York) was where the music business was. I made the move from St. Paul in '74, Debbie had come from Detroit, I'm not sure precisely what year.
I had a friend in L.A. named Dave Wallace. Dave was a fine piano player and had lots of bulky gear: a Hammond B3 with bass pedals, a Yamaha CP70 electric grand piano, some kind of a string synth, and a P.A. system. I used to haul my drums over to Dave's pretty frequently, just for the fun of playing together.
I first met Debbie at Dave's North Hollywood home in 1980. Dave had heard Debbie sing somewhere, and as soon as he heard her he knew he wanted to work with her. He had managed to talk her into coming over to sing with us one night when she was free. He called me and basically said "you have to hear this woman, and we have to work with this woman".
I don't recall what the first tune we played was, but I do recall being blown away as soon as I heard her begin to sing.
I know you are all entirely familiar with that feeling.
Fortunately she liked us, and we began to rehearse, and eventually got some five-nights-per-week stints in clubs. Most of the gigs we got were in far flung suburbs south of L.A., some as far south as Orange County. We lived northDebbie had an efficiency in Hollywood and I was a bit further northeast, in Glendale- so typically I would pick Debbie up, and we would head down the 5 or 405 together, to wherever the gig was.
Our longest stint was probably at a now defunct steakhouse called the Hungry Tiger, in Buena Park, not too far from Knott's Berry Farm. Club gig hours in those daysunless you were clubbing in the Midwest- were 9PM until 2AM. We generally would do three 75-80 minute sets. So we needed a fair amount of repertoire.
Our repertoire was eclectic. Debbie loved to sing standards- we did plenty of them, and she liked to open most gigs with "Foggy Day"- but she was up for singing any song she felt was a good one. When we found out she loved Sam Cooke, we talked her into letting us sing "What a Wonderful World This Would Be" with her. She tolerated our voices graciously. She had a huge crush on Peabo Bryson, so we always did "Reaching For the Sky". She did Stevie's "You Haven't Done Nothin'". She sang Milton Nascimento's "Bridges", and some tunes she knew from Sergio Mendes recordings- "So Many Stars", "Like a Lover" (again, she tolerated Dave and I singing the echo backgrounds), and the fabulous "Pretty World". She sang that extremely light and happy song just as superbly as she did Bernstein's wistful "Some Other Time", which was another tune we did pretty much every night. A big audience favorite was her reading of the Michael Jackson tune "He's Out of My Life". I remember she sang the first verse unaccompanied.
Our little combo lasted maybe a year, maybe a year and a half or so, until Dave ran into some issues that forced us to call it quits.
Becky and I moved back to the Twin Cities in '82, and by the fall of '84 I was working in the house band in the newly opened "Rupert's" nightclub, a multi-tiered dance mega club on 394 which caught some serious lightning in a bottle for a few years in the mid 80s.
As I recall, it was within no more than 2-4 weeks after Rupert's opening night that the club's music director, Dick Whitbeck, announced he had immediate need of a female singer who could handle some of the band's R&B repertoire, and wondered if anyone in the band knew of such a person. "As a matter of fact…", I said.
Debbie was still in L.A., but had moved since I had last been in touch with her, and these were the days before cell phones. I made lots of calls to Los Angeles, but no one knew where she was living or how to reach her. Becky and I had met Debbie's mom once, when she was visiting Debbie in L.A. -the four of us had gone out for dinner- so we recalled that she was a nurse, lived in Detroit, and was named Lucille.
We figured Lucille would undoubtedly know how to reach Debbie. But we didn't have an address or phone number for Lucille. The long distance information operator in Detroit was able to find Lucille, but told us she couldn't give us her number because it was unlisted. We called back, reached a second operator, and explained that we had a job for Debbie but that only her mom knew how to reach her. We wondered if by any chance the operator might be willing to call Lucille on our behalf and ask Lucille to call us, collect.
Lucille called us a few minutes later.
(I have often thought back to this random, anonymous act of kindness, by a sympathetic phone operator in the middle of her shift in Detroit, who went out of her way and probably broke the rules, and how it ended up touching the future lives of an entire city's music community.)
My memory is a bit foggy, but as I recall, I think I was able to tell Debbie the club would guarantee her a six week initial run in exchange for dropping everything and flying out here right away. She did depart L.A. in very short order. I think she managed to get most of her belongings into two large suitcases.
I had the advantage of having already heard Debbie sing, so I knew the club would be wanting her to stay. Therefore, to the extent that this would be a "trial run", I knew it would be Debbie doing the judging, not the other way around.
Debbie could have found reasons not to fall in love with this new gig. Rupert's was incessantly loud, there were kitschy sculptures of large black cats on the walls, and the place was named after someone who did not exist. But the musicians were talented, and Debbie appreciated the band and the other singers. She was a person who made friends easily, and this was a steady gig. As I recall, she began to feel at home within just a few days.
For her first six months in the Twin Cities, from Oct of '84 thru March of '85, Debbie stayed at our place. It was enjoyable having her around, and she was a gracious house guest. As you all well know, she had an extremely warm and generous spirit, and a laugh that exploded. She loved to hang out, especially into the wee hours. She was an extreme night owl. One thing I learned living with Debbie was that the amiable qualities I just mentioned were every bit as evident at home as they were in publicparticularly after about 2PM.
Debbie wanted to sing jazz. I don't believe she would have stayed in Minnesota if she'd felt that wasn't going to be possible. Three of the people who I believe made a huge difference in Debbie's life are:
-Gary Raynor, who played in the Rupert's band and shared Debbie's love for jazz. Gary introduced Debbie to the Twin Cities' jazz scene, put bands together for her, played innumerable jazz gigs with her, encouraged her, and constantly demonstrated to Debbie his belief in her artistry.
-Lowell Pickett, who founded the Dakota within months after Debbie's arrival in Minnesota. He gave jazz a dependable Minnesota home, and he gave Debbie a place to sing, having recognized her extraordinary talent from the first time he heard her.
-Adi Yeshaya, who brought his world-class arranging skills to numerous projects with Debbie, many that were essentially labors of love, including helping her create all five of her recordings.
In our 1980 L.A. trio, we had some good laughs, and got to know each other pretty well, making those long freeway round trips together five nights a week in my Dodge Dart. I learned that her given name was Debborah and that it was spelled uniquely, although I can't recall the correct spelling now. Double "b" I'm thinking, but I could be wrong. I learned that she was a big NBA fan. I learned that some of her days in L.A. had been financially pretty rough, and that for a time she'd had to cook on her iron.
Sometimes on our way home at 2AM, we would turn on the radio and just let Larry King do most of the talking. But we often enjoyed the more candid kind of talk people tend to have with one another on long rides in cars after midnight.
As a result of talks like those, I learned that Debbie had a very strong faith, and I always got the sense from her, in our 2AM freeway conversations, that ultimately she felt she was merely visiting this planet.
In our L.A. combo, Debbie's rendition of Charlie Smalls' "Home", from The Wiz, was a show-stopper that always got a standing ovation. She had a profound relationship with "Home", and her performance of it was supernaturally powerful and stunning. I will always be grateful for the thrill and the privilege of having backed up Debbie singing that song.
Debbie loved music deeply, and she respected a good song. She figured if she was going to sing any song, then she owed it everything she had; she was constitutionally incapable of "phoning it in". So what she did instead was to reserve the songs she loved the most for her best audiences. If her audience wanted to hear her sing "Home", they had to earn it.
I am feeling Debbie's loss quite deeply. She leaves behind a space that can't be filled.
The one comfort I can find is that I feel absolutely sure that where she's gone is "Home"