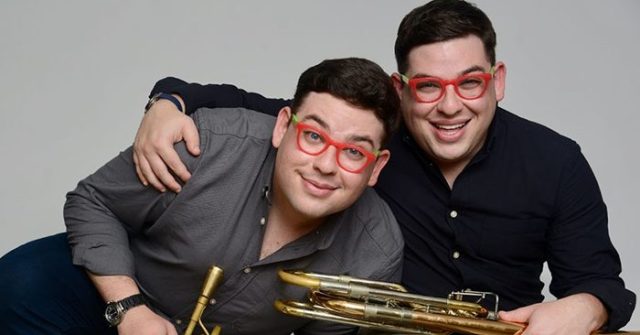 Twin horn players Adeev and Ezra Potash may have only lived in Minneapolis for a year, but that time – as well as being Herzl Camp alumni – makes their Sept. 22 show at The Dakota like a homecoming. But one in which they know they'll disappoint some people.
"You just kind of have to make a shortlist and hope you get to any of it," Ezra said. "We inadvertently offend people just by not having the time to see everybody we'd like to see. So that's why we, you know, we tell people to come to the shows; at least we can guarantee that we can see them then."
The Potash Twins are touring to support their new album Hornography, which was released in June. The album takes their classic brass sound, but puts a twist on it using hip-hop, EDM, and other genres.
"Our whole thing is that its horns for the 21st century," Adeev said. "We grew up playing jazz, we grew up playing classical, but those are both kind of underrepresented genres these days. And we wanted to lure people into the beauty of those things, through genres that they already know well [that] … people more of our age appreciate."
In addition to music, the Potash Twins are renown foodies. They've had food shows on Bravo, Food Network and Travel Channel with their friend, Minneapolis' own Andrew Zimmern. The scheduling of the television work and the music work well together.
"It's actually pretty complimentary because you do shoots for a couple of months," Ezra said. "And then you're basically free while they're in post-production, that's usually when we work on new music or a new album. And then when they're out of post-production and the shows are released, then we go on a press tour to promote."
Said Adeev: "When we're traveling for music, and performances and stuff, the food is always one of the things we're excited the most about. It is really complimentary"
So complimentary that the Potash Twins curated a special tasting menu at the Dakota for the night of their show, which is a $49 add-on to the ticket.
The new album started as a pandemic project; they were wrapping up a Food Network show right as COVID lockdowns started.
"After we were done with that, we knew we wanted to kind of use our time wisely while we weren't able to travel or really perform," Ezra said.
Said Adeev: "we wanted to spend all of our time writing music so that when the pandemic was over, we could collaborate again with our friends and fellow artists. It was the light at the end of the tunnel for us."
Ezra said that most of the songs have a collaborative element with their friends. Zimmern does a spoken-word Intro and the second track, Takeaway, over the twins' music, and their friend, late comedian Bob Saget, voices the Outro. In all, 10 of the 11 songs are collaborations.
"Bob was a big supporter of us both professionally and personally. And we were honored that he was a part of the album," Ezra said. "Obviously he passed right before the album came out, which was really pretty devastating for us."
A percentage of the album sales have been donated to the Scleroderma Foundation, an organization Saget was on board for many years.
"Collaboration was really at the forefront of it," Adeev said. "We wanted to feel connected with our friends and other artists. So that's how we decided to utilize our time during [the pandemic]."
By: Lonny Goldsmith (TC Jewfolk)
THU

SEP 22

 • 7PM