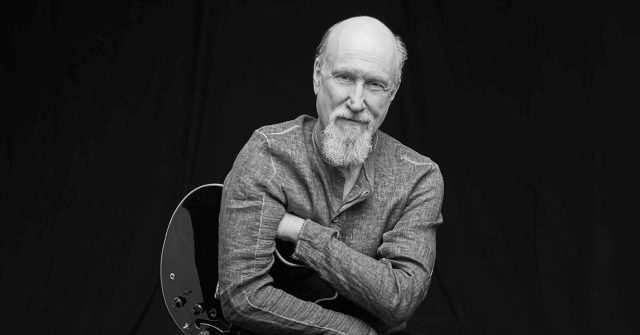 Like most of us, jazz guitar great John Scofield spent the COVID-19 pandemic at home. For someone who had lived on the road for half the year since 1975, this was quite a change. He used the enforced time to record the first solo album of his long career, called simply John Scofield, which dropped this past May from ECM. This eponymous album is a great mixture of new compositions and covers (the latter an intriguing mixture, ranging from "Danny Boy" to "Not Fade Away" to "You Win Again"). However, when Scofield came to perform at The Dakota with his Ibanez guitar on Thursday, there was no mention of the new album. Perhaps he just wanted to put that anomalous solo experience behind him – after all, he had his Yankee Go Home band to perform with.
Scofield has repeatedly said that he prefers playing with a band, learning to develop a sound over time. Indeed, he has played with amazing groups over the years, not least his time with Miles Davis in the early 1980s, on three of Miles' "comeback albums". He also has played with Medeski, Martin & Wood, Bill Frisell, Pat Metheny, Charlie Haden, and many others. His current band may not be as well-known as some of the legends just mentioned, but it is clearly an ensemble of very able musicians who sound great together. Vicente Archer, on the upright bass, has already appeared on over 100 albums, including Scofield's 2018 Combo 66. Drummer Josh Dion is an integral part of the group Paris Monster, and also does a mean lead vocals (particularly on displayed in the evening's cover of the Grateful Dead song "Black Muddy River"). Jon Cowherd, on piano and keyboard, is perhaps best-known for his work in Brian Blade's band, with a skillset stretching across many musical styles, moods, and playing speeds.
It was an evening of cover songs – along with "Black Muddy River", there was "Mr. Tambourine Man" (written by Bob Dylan and made a hit by The Byrds), Glen Campbell's "Wichita Lineman", Leonard Bernstein's "Somewhere" from West Side Story, and Hall and Oates' "I Can't Go For That". Of course, this being a band centered around Scofield, these were not just simple restatements of well-known melodies, but incorporated intricate group improvisations, adding layers of jazz, funk, and blues to the rock, pop, classical, and country foundations.
Scofield grew up on rock music, and initially tried to copy the guitar solos he heard on rock and blues albums. Fortunately for us, he was told that, for what he wanted to do, jazz was the way to go. There are still plenty of moments in a Scofield performance when one hears hints of the rock guitar hero he once dreamed of becoming, but there are many more signs of the craftsman who has worked every day for decades, honing his craft. He has talked about the importance of rhythmic ideas even in the most melodically focused work. And he likes to tell the story of being instructed by Miles Davis: once, he (Scofield) was too focused on stringing together long lines of Be Bop notes, and Miles kept telling him to "play with space" – to use pauses as a central part playing. And he has learned this; as others have noted, with Scofield, every note has a different dynamics, different shading, creating the characteristic swing in his music.
Scofield has said that all the great jazz artists are obsessed with that moment when the music comes out spontaneous, and you can say something that means something.  This evening had many such moments, and the sold-out audience at The Dakota appreciated every one.
BY: BRIAN BIX (TWIN CITIES ARTS READER)