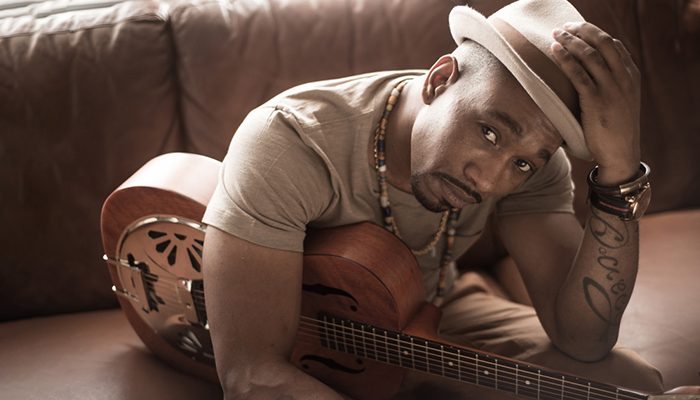 "smooth but earthy-textured, a blend of Bill Withers… and D'Angelo" – Independent UK
Anthony David was born Anthony Harrington in Savannah, Georgia. A Gulf War vet, he began writing songs during a stint in the military in Iraq, where as a paratrooper with the 82nd Airborne he took part in 28 combat missions. Writing songs was a life-affirming act while facing the real possibility of dying.
He got involved in the music scene in Atlanta in the late 1990s, meeting a then-unknown singer-songwriter named India.Arie. They became friends and collaborators, with Anthony co-writing songs on her first three albums, which spawned a number of Grammy nominations, singing backup for her on tour and eventually opening for her. This visibility led to the release of Anthony's debut album, 2004's Three Chords & The Truth, carving out a unique lane with his personalized brand of acoustic soul. Extensive touring revealed Anthony to be a free-wheeling, engaging performer, able to hold a crowd with just the sound of his voice and an acoustic guitar.
A second album, The Red Clay Chronicles, led to a deal with Universal Records, which released Acey Deucy, a compilation of the best tracks from his first two albums, yielding a hit duet with India.Arie and a Grammy nomination.
His star continued to rise as he released his fourth album As Above, So Below in 2011, which featured guest vocalists Algebra, Phone of Little Brother and Shawn Stockman of Boyz II Men. His duet with Algebra,"4Evermore," became a #1 hit on adult urban radio while the reggae/Latin-tinged "Body Language" tore up dance floors in the UK.
LEARN MORE: https://anthonydavidsound.com/