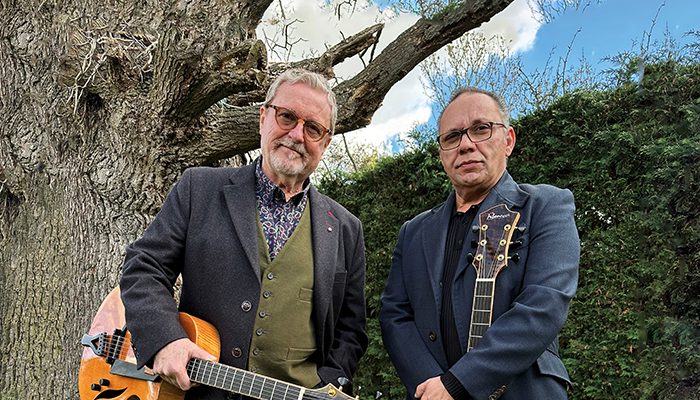 "one of the most remarkable guitar players on this planet." – London Jazz News
"Martin Taylor is one of the most awesome solo guitar players in the history of the instrument. He's unbelievable" – Pat Metheny
French guitarist Biréli Lagrène is lauded worldwide for his evolving blend of swinging continental jazz, post-bop, and fusion. When his Routes to Django: Live was issued in 1980, the 13-year-old jazz guitarist was immediately praised by critics as a protégé of Django Reinhardt. He had already won a prize in a festival at Strasbourg in 1978, and his appearance at a Gypsy festival was broadcast on television. While he has broadened his approach, exploring the sounds of Wes Montgomery and Jimi Hendrix and recording with some of modern jazz's biggest names, he is best known for his inspired renderings of the hot club style.
Widely considered to be the world's foremost exponent of solo jazz and fingerstyle guitar playing, Martin Taylor possesses an inimitable style that has earned him global acclaim from fellow musicians, fans and critics alike. He dazzles audiences with a signature style that artfully combines his virtuosity, emotion and humor with a strong, engaging stage presence.
Taylor has enjoyed a remarkable musical career spanning over five decades, with more than 100 recordings to his credit. Completely self-taught beginning at the early age of 4, he has invented and developed a unique way of playing the guitar that is greatly admired, and often emulated, by guitarists all over the world.
Taylor brings a rich and varied musical heritage to his play, to the extent that Tommy Emmanuel remarked that [Taylor] is "a portal into all that came before." Over his stellar career, Taylor has amassed a record 14 British Jazz Awards as a guitarist. Several of his albums have been in the Top 10 in the USA and Europe.
Recommended for Fans of Dorado Schmitt, The Rosenberg Trio, Johnny Smith and Bucky Pizzarelli.
LEARN MORE: https://martintaylor.com/