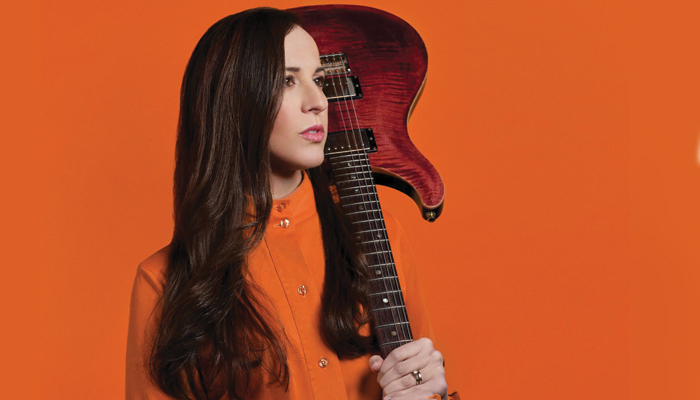 "Trading blazing solos with the late Purple One on a nightly basis, she proved her mettle, and earned a place in guitar history."
– Guitar Player Magazine
Canadian guitarist, Donna Grantis played with Prince as part of 3RDEYEGIRL and the New Power Generation. She was also working with him in a fusion jazz collective that he set aside to concentrate on his solo piano performances before his death in April 2016. And Prince would have served as producer on Diamonds & Dynamite.
Her incendiary guitar playing is highlighted against the percussive tabla rhythms of guru Suphala (a protégé of master Ustad Zakir Hussain), to create a sound described by the Star Tribune as, "New millennium jazz-rock fusion, sorta like Jeff Beck meets a post-modern Mahavishnu Orchestra." Acclaimed pianist, Jason Lindner (from David Bowie's Blackstar and hailed as a "musical universe" by Chick Corea) joins this extraordinary ensemble.
Read her Star Tribune feature, "Former Prince guitarist Donna Grantis celebrates new jazz-rock album at the Dakota" here >>
Members:
Donna Grantis (guitar)
Suphala (tabla)
Jason Lindner (keys)
Cody McKinney (bass)
Jason "JT" Thomas (drums)
Join us for dinner before or during the show. Explore our menu >>  Did you know that we offer a premium seating option for those who pre-order a $39 food/beverage voucher? Call 612-332-5299 to learn more and order.

Grantis was named one of 50 sensational female guitarists by Guitar Player Magazine, and has shared the stage with Pearl Jam, Stevie Wonder, Chaka Khan, Janelle Monáe and Kendrick Lamar.
In a Rolling Stone feature aoout Jason Linder on David Bowie's Blackstar, producer Tony Visconti said "[Keyboardist] Jason [Lindner] was a godsend. We gave him some pretty far-out chords, but he brought a jazz sensibility to re-voice them."
Learn More: https://www.donnagrantis.com