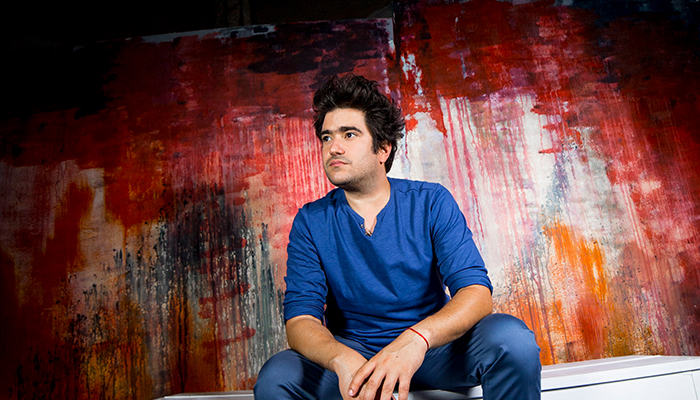 "Young Harold López-Nussa is among the greatest pianists of Cuba."
– Havana Times

"López-Nussa's single-note grace is akin to Herbie Hancock's, and his two-fisted attacks are as joyous as Chick Corea's" –Downbeat
Harold will be accompanied by Grégoire Maret, Luques Curtis and Ruy López-Nussa. Grégoire is a Grammy-winning harmonica player who has previously played alongside Herbie Hancock, Pat Metheny, Prince, and other legends. Luques is an upright bassist who's shared the stage with legends like Gary Burton and Eddie Palmieri. These two musicians will join Ruy López-Nussa, Harold's brother and longtime drummer to fill out the band. Harold and Ruy have performed with both Gregoire and Luques on previous occasions but this will be the first tour with all four on the stage together. Their blend of influences and experience is sure to make for a spirited and exciting performance.
Harold López-Nussa's music reflects the full range and richness of Cuban music, with its distinctive combination of classical, folkloric and popular elements, as well as its embrace of jazz improvisation and interaction. His career gracefully spans styles. As a member of an illustrious musical family, López-Nussa is one of the brightest lights on Havana's jazz scene —an artist who has fully integrated his classical training and love of jazz with his Cuban roots. He gained international attention when he won top honors at the prestigious Montreux Jazz Piano Competition in 2005 and toured widely with Buena Vista Social Club vocalist Omara Portuondo. He made his US debut as a bandleader on the acclaimed 2009 World Village album Herencia, and the release is the 2020's Mack Avenue session Te Lo Dije (I Told You So). Un Día Cualquiera, pianist HAROLD LÓPEZ-NUSSA's second release for Mack Avenue Records, represents this musical vantage point with force and innovation. He tells this story—his story—with drama, heartfelt emotion and consummate skills.
COVID-19 Policy
Effective immediately, all performances at the Dakota will require either proof of a full course of COVID-19 vaccination or proof of a negative COVID-19 test taken in the prior 72 hours. Patrons must have a completed COVID-19 vaccination card or a photo of their card, with their final dose at least fourteen days prior to the event, or a negative COVID-19 test result from 72 hours or less prior to the event. Thank you for helping to keep everyone safe.
Learn More: http://www.haroldlopeznussa.com