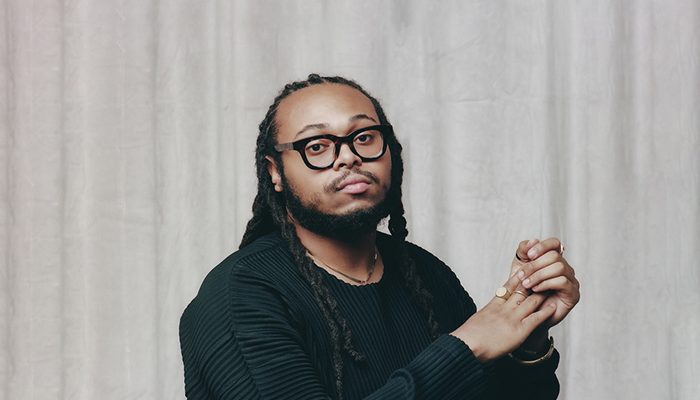 "composes ocean-deep jazz epics." – Pitchfork
The music of saxophonist and composer Immanuel Wilkins is filled with empathy and conviction, bonding arcs of melody and lamentation to pluming gestures of space and breath. Listeners were introduced to this riveting sound with his acclaimed debut album Omega, which was named the #1 Jazz Album of 2020 by The New York Times. The album also introduced his remarkable quartet with Micah Thomas on piano, Rick Rosato on bass, and Kweku Sumbry on drums, a tight-knit unit that Wilkins features once again on his stunning sophomore album, The 7th Hand.
The 7th Hand explores relationships between presence and nothingness across an hour-long suite comprised of seven movements. "I wanted to write a preparatory piece for my quartet to become vessels by the end of the piece, fully," says the Brooklyn-based, Philadelphia-raised artist who Pitchfork said "composes ocean-deep jazz epics."
Conceptually, the record evolves from what Wilkins begins exploring on Omega, which included a four-part suite within the album. On The 7th Hand, all his compositions represent movements, played in succession. "They deal with cells and source material like a suite would," says Wilkins, "but they function as songs, as well."
While writing, Wilkins began viewing each movement as a gesture bringing his quartet closer to complete vessel-hood, where the music would be entirely improvised, channeled collectively. "It's the idea of being a conduit for the music as a higher power that actually influences what we're playing," he says. The 7th Hand derives its title from a question steeped in Biblical symbolism: If the number 6 represents the extent of human possibility, Wilkins wondered what it would mean — how it would sound — to invoke divine intervention and allow that seventh element to possess his quartet.
Omar Abdulkarim has been playing trumpet since the early age of 14 months. Omar holds a Bachelor's Degree in Music Performance from the renowned New School for Jazz and Contemporary Music. He has shared the stage with Roy Hargrove, Redman, Method Man, KRS-ONE and Talib Kweli to mention a few. Omar has also had the pleasure of performing with Nicholas Payton's Television Studio Orchestra and Valerie Ponomarev's Big Band. Omar has written and recorded with Lauryn Hill and Jose James. His influences include Fats Navarro, Miles Davis, Freddie Hubbard, Woody Shaw, John Coltrane and Lee Morgan.
After living in New York for 11 years, where he completed the undergraduate program at the New School, Omar moved back to Minnesota where he is currently composing new music for his upcoming album, performing with Source Code and the Minnesota Hard Bop Collective, and more.
Omar Abdulkarim – trumpet
Kavyesh Kaviraj – keys
Jeff Bailey – bass
LA Buckner – drums
PHOTO: Roger Walker