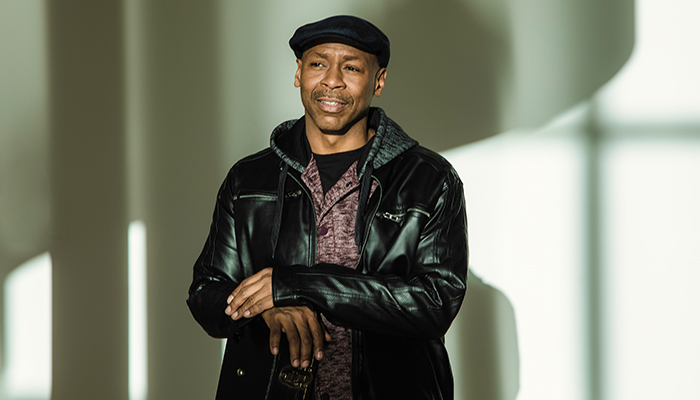 "A relentless current of sound, with bold melodic statements suddenly bursting forth from hard-edged funk- and fusion-flavored excursions."
– JazzTimes
featuring:
Bill Pearce – saxophone, Rene Camacho – Bass, Marvin "Smitty" Smith – drums
Since his 18-year tenure as guitarist and music director of NBC's The Tonight Show, Philadelphia-born guitarist and prolific composer, Kevin Eubanks retired to pursue the recording and touring sides of his career. His laid back style and affability seems to belie the concentration and focus that have made him successful both as a consummate musician and a household name for late-night TV viewers.
A strong advocate for music education, Kevin served as the Artistic Director of the Jazz In The Classroom Program for The Thelonious Monk Institute of Jazz from 2010 – 2012, where he worked with young up-and-coming middle and high school musicians in the Los Angeles public schools. "Young people need to be able to express themselves in ways that educate, uplift, and inspire self-confidence," Eubanks remarked. "It's important that everyone in the neighborhood gets to see that." He also hosted the 2013 NEA Foundation Gala. He has taught at the Louis Armstrong Jazz Camp, the Banff School of Fine Arts in Canada, Rutgers University, and at the Charlie Parker School in Perugia, Italy as well as hosting master classes at many colleges and universities.
In November, 2010, Kevin released the CD Zen Food (Mack Avenue Records) that debuted in the Top Five on the Billboard Jazz Chart and was Kevin's fastest selling record ever. In February, 2013 his CD The Messenger (Mack Avenue Records) was released, garnering a 2014 NAACP Image Award nomination for "Outstanding Jazz Album." That same year, he toured extensively as a member of Dave Holland's PRISM. In March 2015, the acclaimed Duets (Mack Avenue Records), with fellow guitarist Stanley Jordan, was released to rave reviews and concert performances. His latest project, the CD East West Time Line was released on April 7, 2017 (Mack Avenue Records) and quickly reached #1 on the JazzWeek Radio Chart, and is receiving critical praise around the globe.
In addition to club/concert touring Kevin has begun presenting at conferences around the country not only as a musician but also as a motivational speaker to people of all ages.
As one of the most accomplished guitarists of his or any generation, Eubanks has deservedly become known to millions through music, TV, and what so many artists know so well, "lots of hard work."
Learn More: https://www.kevineubanks.com