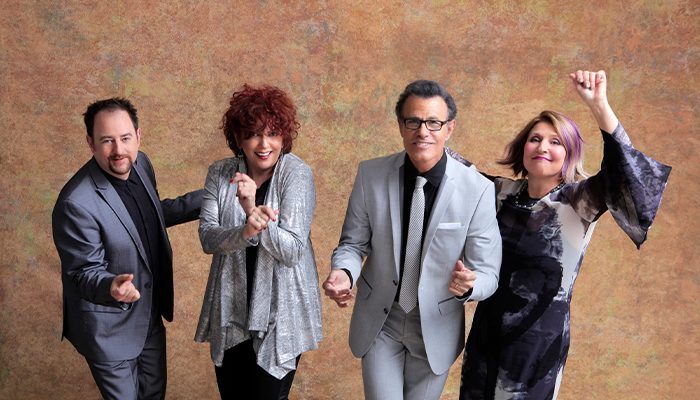 "The best singing group in jazz – or any other musical idiom."
– L.A. Times

THIS SHOW IS BEING PERFORMED AT THE STATE THEATRE
The Manhattan Transfer has achieved an incomparable career of pop and jazz hits, a legacy that defines the group as it celebrates its 50th Anniversary in their Farewell Tour. The legendary quartet has won 10 Grammy Awards out of 20 nominations and has been inducted into the Vocal Group Hall of Fame.
In 1981, they became the first group ever to win Grammys in both Pop and Jazz categories in the same year – Best Pop Performance by a Duo or Group with Vocal for "Boy From New York City" and Best Jazz Performance for Duo or Group for "Until I Met You (Corner Pocket)." The dozen Grammy nominations they received for their Vocalese album in 1985 were second to Michael Jackson's Thriller as the most nominated album in one year.
Their dynamic performances and sense of style have led them to become one of the most iconic music groups in the world. With their enduring creativity, energy, and joy in their music, the group has joined the pantheon of the entertainment industry.
Recognized for their unique sound, The Manhattan Transfer has also recorded with an impressive array of artists, including Tony Bennett, Bette Midler, Smokey Robinson, Laura Nyro, Phil Collins, B.B. King, Chaka Khan, James Taylor, and Frankie Valli.
The group has released 19 singles and 29 albums over their incredible career and their music has been widely featured in major films and television shows. Their 50th Anniversary celebration will see the release of a new album – with a symphony orchestra – and a 5-disc historic CD boxed set.
With sold-out world tours and record sales in the millions, The Manhattan Transfer continues to bring unique and extraordinary melodic and jazz-infused vocals to new and established audiences, spanning generations.
LEARN MORE: https://manhattantransfer.net/
Hard-charging. Powerful. Immersed in the history of their craft and in total command of their instruments. That's DIVA – an ensemble of 15 extremely talented and versatile musicians who just happen to be women. They can't help it – they were born that way.
Headed by swinging drummer Sherrie Maricle, DIVA exudes the excitement and force found in the tradition of the historic big bands but with an eye towards today's progressive sound of originality and verve. With New York as their home base, DIVA performs all over the world playing contemporary, mainstream big band jazz composed and arranged to fit the individual personalities and styles of the musicians themselves. Audiences can expect to hear high-energy performances packed with unique improvisation, spontaneity, and fun.
LEARN MORE: https://divajazz.com/about/diva/
THE STATE THEATER: https://hennepintheatretrust.org/theatres/state-theatre/