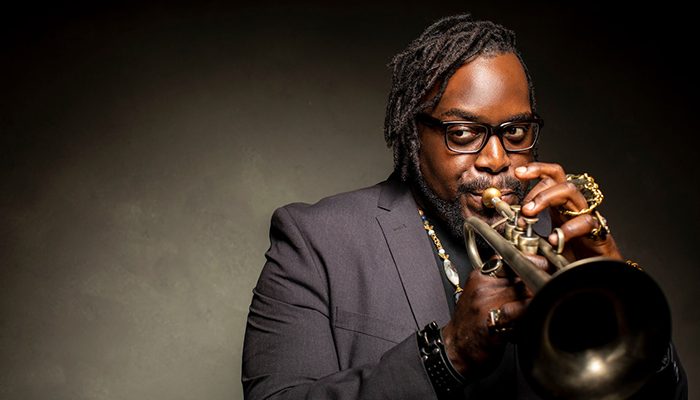 "Hill's horn lights our souls afire." – Downbeat 
From his beginnings as one of Chicago's most thrilling young trumpeters, to his current status as an internationally renowned musician, composer and bandleader, Marquis Hill has worked tirelessly to break down the barriers that divide musical genres. Contemporary and classic jazz, hip-hop, R&B, Chicago house, neo-soul—to Hill, they're all essential elements of the profound African-American creative heritage he's a part of.
Hill's new album, New Gospel Revisited, is an extraordinary live recording that reimagines his debut as a leader with a new band, a new focus and a sharpened ear as a bandleader, composer and performer. Hill revisits and reinterprets his 2012 debut album, employing a band of super-heavyweight musicians including Walter Smith III, Joel Ross, James Francies, Kendrick Scott and Harish Raghavan. The set is breathtakingly good with a band that sounds as inventive and creative as it reads on paper.
COVID-19 Policy
Effective immediately, all performances at the Dakota will require either proof of a full course of COVID-19 vaccination or proof of a negative COVID-19 test taken in the prior 72 hours. Patrons must have a completed COVID-19 vaccination card or a photo of their card, with their final dose at least fourteen days prior to the event, or a negative COVID-19 test result from 72 hours or less prior to the event. Thank you for helping to keep everyone safe. More COVID Policy details here >>
Learn More: https://www.marquishill.com/