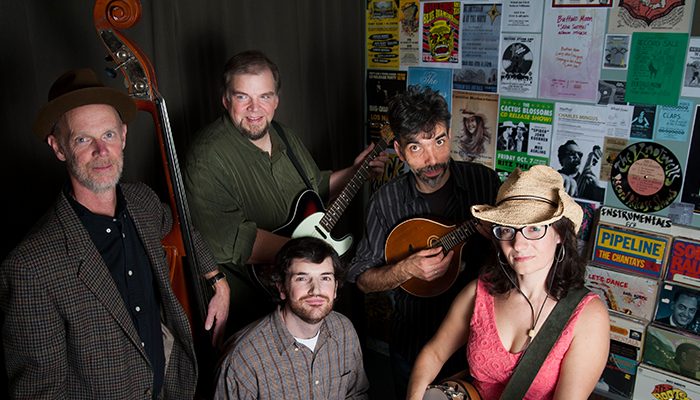 "simple, powerful songwriting" – Pioneer Press
The award-winning Mother Banjo Band returns to the Dakota for a joy-filled night of folk, roots and soulful Americana, celebrating the tenth-anniversary vinyl release of their best-selling gospel album The Devil Hasn't Won. The album was originally released in 2013 with a sold-out show at the Dakota, and the full 5-piece band is excited to return to the world-renowned stage with special guest Annie Mack who has been hailed as the "heir to the Mavis Staples throne" (Star Tribune).
Mother Banjo Band is led by New England-raised, Minneapolis-based singer/songwriter/banjo player Ellen Stanley, who has been called "an outstanding poet" (Inside Bluegrass) and has been featured on SiriusXM Radio, CMT.com, Americana UK, Jazz88 and The Current. Three of the original band members featured on the album will also be performing as part of this release concert, including Dan Gaarder (acoustic & electric guitars, vocals), Ben Cook-Feltz (piano, drums, vocals) and Jim Parker (mandolin). Together they will play lively originals and unique covers of songs the band dubs "pub gospel," sometimes evoking the classic sounds of The Band and sometimes the more simple arrangements of folk songwriters like Gillian Welch. As Stanley says, "The best gospel music lifts you up, includes everyone and is easy to sing along with. It needs to speak to your soul no matter who you are or what your beliefs are. The point of this music is to lift us up and bring us together."
Annie Mack is full of soul – with her rich vocals, poignant lyrics, her strong production, and her immaculate musicianship. Hailing from North Minneapolis, Annie is a blues/roots musician who incorporates influences of folk, rock, and country gospel, all of which are prevalent in her latest project, Testify. All of Annie's individual talents shine on her new EP – not only is she the artist, but she also co-produced and wrote each of the tracks.
Recommended for Fans of Gillian Welch, Molly Tuttle, Rhiannon Giddens and Abigail Washburn.
LEARN MORE: motherbanjo.com
LEARN MORE: https://anniemackmusic.com/home