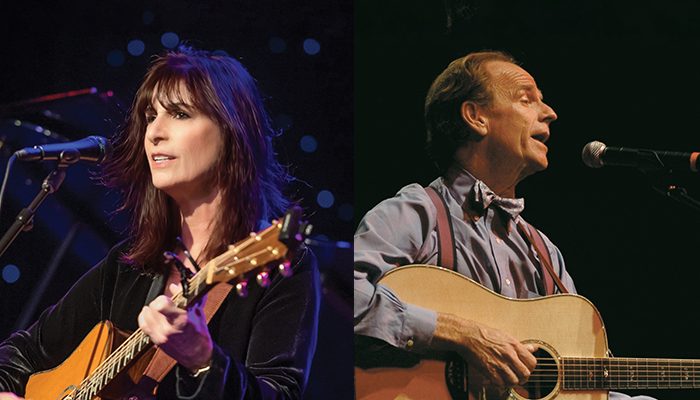 "sheer charm… impressive" – New York Times

"Taylor exudes stage presence, even when he's not performing." – Boston Globe
Karla Bonoff has been described as one of the finest singer/songwriters of her generation. That description is not hyperbole.
Bonoff has enjoyed critical acclaim, commercial success, enduring popularity, and the unwavering respect of her peers. Karla has seen her songs become hits for Bonnie Raitt, Wynonna Judd, and Linda Ronstadt. Many of Bonoff's ballads are classics.
Karla has continued to record and tour extensively, playing sold-out shows around the world. Hearing Karla's moving vocals on her rich, expressive songs is like standing beneath a sparkling waterfall–refreshing, exhilarating, and restorative. Experiencing them live can be transformative.
In late 2020 Karla released Silent Night, her first collection of holiday music, to wide acclaim, including a prominent listing on the New York Times Best New Holiday Albums of the Year. In 2021 Karla added two new songs to her holiday collection including a duet with the legendary Michael McDonald.
Livingston Taylor picked up his first guitar at the age of thirteen, which began a more than fifty-year career that has encompassed performance, songwriting, and teaching. Born in Boston and raised in North Carolina, Livingston is the fourth child in a very musical family that includes Alex, James, Kate, and Hugh. Livingston recorded his first record at the age of nineteen and has continued to create beautifully crafted, introspective, original songs as well as sparkling interpretations of the classic songbook that have earned him enthusiastic listeners worldwide.
Livingston has never stopped performing since his early coffeehouse days, touring with major artists such as Joni Mitchell, Linda Ronstadt, Fleetwood Mac, Jimmy Buffett, and Jethro Tull. He maintains a busy concert schedule, touring both nationally and internationally. Livingston is a natural performer, peppering his shows with personal stories, anecdotes and ineffable warmth that connect him to his fans.
Recommended for Fans of Linda Ronstadt, Art Garfunkel, Jimmy Buffett and Joni Mitchell.
LEARN MORE: https://www.karlabonoff.com/
LEARN MORE: https://livingstontaylor.com/