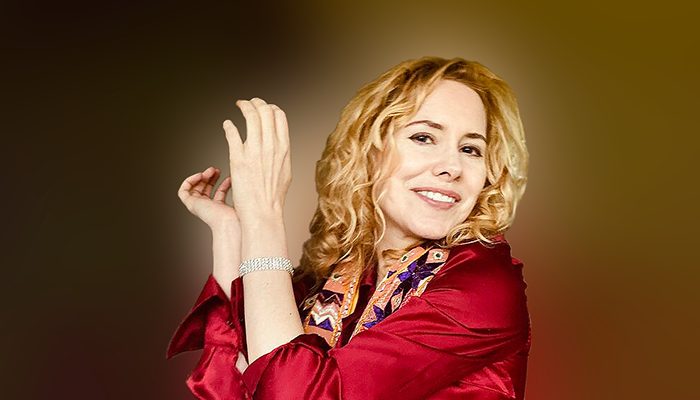 "unpredictable, thrilling… sardonic wit" – The New York Times
Under the lonesome cry of the midnight train, stars twinkling over hillbilly lights in the mountain fog, Nellie McKay returns with her first album of original material in 13 years. Recorded in Charleston, West Virginia with The Carpenter Ants & a roving retinue of musical compadres, 2023's Hey Guys, Watch This traces the haunted sounds of Appalachia to a renaissance of revelry.
Nellie McKay is a true old-school entertainer, whose larger-than-life personality and merciless wit are on full display throughout every show.
Nellie McKay has released seven acclaimed albums, won a Theatre World Award for her Broadway portrayal of Polly Peachum in The Threepenny Opera, co-created and starred in the award-winning off-Broadway hit Old Hats, and has conceived and performed musical biographies of Barbara Graham, Rachel Carson, Joan Rivers, and Billy Tipton.
Nellie's music has been heard on Mad Men, Boardwalk Empire, Weeds, Grey's Anatomy, NCIS, Nurse Jackie, and SMILF, and she has appeared on TV shows including The Late Show with David Letterman, Conan, Ferguson, and The View. Nellie has made numerous radio appearances on NPR's Mountain Stage, A Prairie Home Companion, eTown, and Marion McPartland's Piano Jazz. The Chase Brock Experience produced a ballet of her third album, Obligatory Villagers, and she contributed the forward to the 20th-anniversary edition of The Sexual Politics of Meat. Her writing has also appeared in The Onion, Interview and The New York Times Book Review.
A recipient of PETA's Humanitarian Award and the Humane Society's Doris Day Music Award in recognition of her dedication to animal rights, Nellie is an annoyingly vocal advocate for feminism, civil rights and other deeply felt progressive ideals. She is currently part of the campaign to get horse-drawn carriages off the streets of New York City. We must all be very kind to one another.
Recommended for Fans of Regina Spektor, Aimee Mann, Fiona Apple and Rufus Wainwright.
LEARN MORE: http://www.nelliemckay.com/