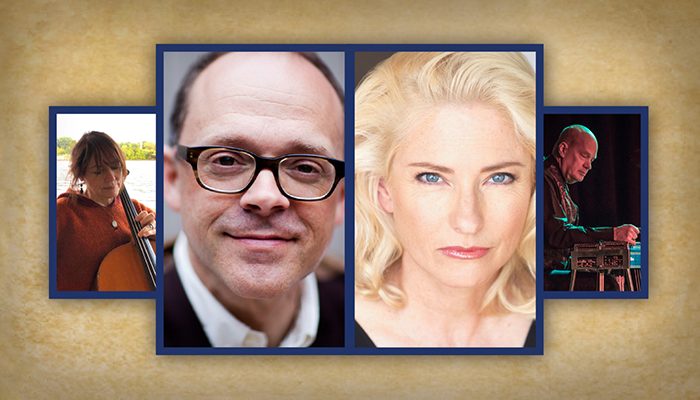 "lush, precise, expressive voice, with its pearls of vibrato" – MinnPost
Singer Prudence Johnson and pianist Dan Chouinard are well-known for their collaborations focusing on the works of a particular songwriter -Gershwin, Hoagy Carmichael and Bacharach to name a few. In "The World According to Randy Newman," they explore the "slippery storytelling, pointed social observation and rapturous melodies" (Rolling Stone) of a true American original.
Newman's songs can be as sardonic and filled with wry irony ("Sail Away", "Short People") as they can be heartbreaking and sincere ("Marie", "You've Got a Friend in Me"). His music is heavily influenced by great New Orleans piano players and infused with a nostalgic touch of Americana evocative of Stephen Foster that plays beautifully to Chouinard's strengths as a pianist. Johnson finds it no mystery that scores of singers, from Ray Charles to Sarah McLachlan to Nina Simone to Snoop Dogg have covered Newman's songs – character-driven stories set to gorgeous melodies, rich in harmonic possibilities.
Johnson and Chouinard will be joined in this venture by two of Minnesota's most versatile and inventive musicians: Michelle Kinney on cello and Joe Savage on the pedal steel guitar.
For three decades, singer Prudence Johnson and pianist Dan Chouinard have enjoyed a musical friendship, performing and touring the country together. Both are veterans of National Public Radio's A Prairie Home Companion, and they can be seen individually on theater and concert stages with many and diverse musical projects. Each has appeared on the other's recordings, but their collection of Gershwin songs (titled, of course, Gershwin) features the duo in the pure simplicity of one piano and one voice.
LEARN MORE: http://prudencejohnson.com/
LEARN MORE: https://danchouinard.com/