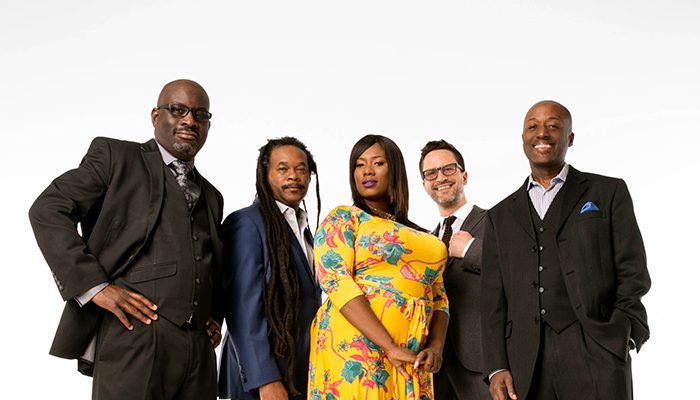 "Ranky Tanky doesn't fit neatly into one category. Unless that category is good music." – Star Tribune
Ranky Tanky (which translates loosely as "Work It," or "Get Funky!") returns with their sophomore album Good Time – a twelve-song collection featuring brand-new original songs in the Gullah tradition.
The last time Ranky Tanky played the Dakota, the show sold-out! Read the Star Tribune feature "The band lands in Minneapolis with big buzz for its modern take on a South Carolina culture descended from slaves" here >> and read the review, "Genre-blending Ranky Tanky gives a top-ranked performance at the Dakota" here >>
This band of native South Carolinians, mix the low country traditions with large doses of jazz, gospel, funk, and R&B. The word "Gullah" comes from West Africa and means "a people blessed by God." The musical roots of Charleston, SC are "rank" and fertile ground from which these contemporary artists are grateful to have grown.
Members:
Quentin Baxter (drums, percussion)
Kevin Hamilton (bass)
Quiana Parler (vocals)
Clay Ross (guitar, vocals)
Charlton Singleton (trumpet, vocals)
COVID-19 Policy
Effective immediately, all performances at the Dakota will require either proof of a full course of COVID-19 vaccination or proof of a negative COVID-19 test taken in the prior 72 hours. Patrons must have a completed COVID-19 vaccination card or a photo of their card, with their final dose at least fourteen days prior to the event, or a negative COVID-19 test result from a test administered 72 hours or less prior to the event. Thank you for helping to keep everyone safe.
The group has been profiled on NPR's Fresh Air with Terry Gross.
Their self-titled debut album soared to the #1 Jazz Album on the Billboard, I-Tunes, and Amazon.
"Soulful honey to the ears." –NPR
Learn More: http://rankytanky.com