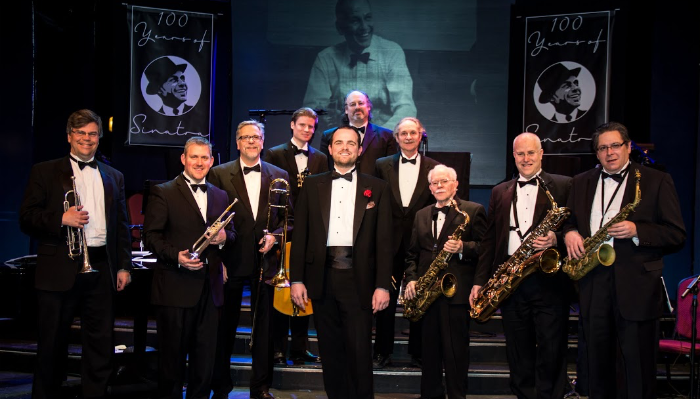 "Walesch croons in a way that evokes Sinatra without imitating him"
– Rhythm and Grooves
Like a good many before him, singer and pianist Andrew Walesch manages to encapsulate the sophistication of a cosmopolite and the self-effacing charm of a country boy. Andrew Walesch and his big band, filled with many Twin Cities' big band and jazz legends, will take you through a journey in time to celebrate Frank Sinatra's legendary career.
Leading his all-star big band packed with local sidemen legends, showman Andrew Walesch kidnaps the Blue Eyes tradition and makes it his own in his jazz-bent Sinatra revue that jams venues all over the Midwest and beyond with a uniquely cross-generational audience.
Members:
Andrew Walesch (vocals, piano)
Bob Parsons, Dave Karr, Bruce Thornton (reeds)
Mark Bobnick, Steve Wagner, Dave Graf (brass)
Mike Cramer, Gary Raynor, Jay Epstein (rhythm)
Join us for dinner before or during the show. Explore our menu >>  Did you know that we offer a premium seating option for those who pre-order a $39 food/beverage voucher? Call 612-332-5299 to learn more and order.

Andrew is known for his unique approach to The Great American Songbook. He has sung and played on the stage of The Bluebird Cafe in Nashville and the the legendary Chicago Theater and has appeared on the nationally syndicated broadcast Mountain Stage on NPR.
Learn More: https://www.andrewwalesch.com