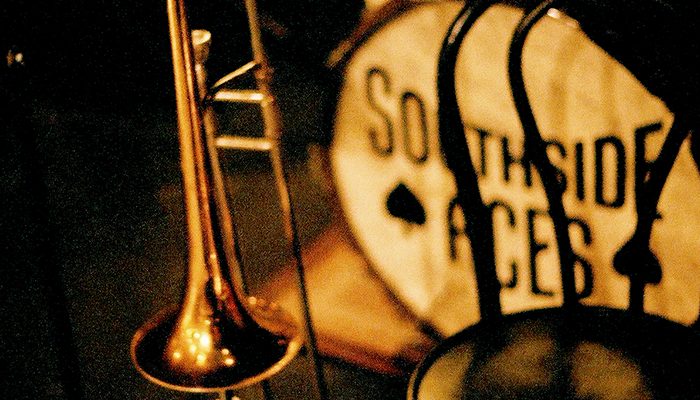 "flawlessly replicate the sound of classic New Orleans" — Prairie Uprising
Southside Aces are celebrating twenty years performing the repertoire of the Jazz Age greats and beyond. From the early New Orleans of Jelly Roll Morton to the world-changing joys of Louis Armstrong. The barrel house sounds of Preservation Hall to the Crescent City rhythms of rock and roll pioneer Fats Domino. Treat yourself to a century's worth of New Orleans jazz.
The band first began as the brainchild of clarinetist Tony Balluff and sousaphone player Erik Jacobson. Their whispers and rumors materialized in Tony's foyer in South Minneapolis, in August 2003. Since their first gig on a flatbed truck in Apple Valley, the Aces have released eight albums, including their most recent —2022's Minneapolis Bump— fifteen original songs inspired by the Jazz Age.
In New Orleans, the jazz tradition thrives off a wide array of styles. The Aces possess a diverse repertoire, with a roll call that includes the names of Louis Armstrong, Jelly Roll Morton, Hoagy Carmichael, Duke Ellington, and Bix Beiderbecke. Plus Crescent City classics like "Bourbon Street Parade", "Just A Closer Walk With Thee", and "St. James Infirmary". And let's not forget the funky rhythms of brass band powerhouses like "Mardi Gras in New Orleans" and "Palm Court Strut"!
The Southside Aces have performed at Dakota, Icehouse, Crooners Supper Club, Vieux Carre, Twin Cities Jazz Fest, Bix Beiderbecke Jazz Festival, and Minnesota Orchestra Sommerfest, to name a few. They've driven dancers to a frenzy at national dance competitions and led second line parades through the streets of the Twin Cities. And they've played events in Denver, Omaha, Chicago, Des Moines, and all across the great state of Minnesota — which, if you're keeping score, makes them a "territory band."
Learn More: https://www.southsideaces.com/