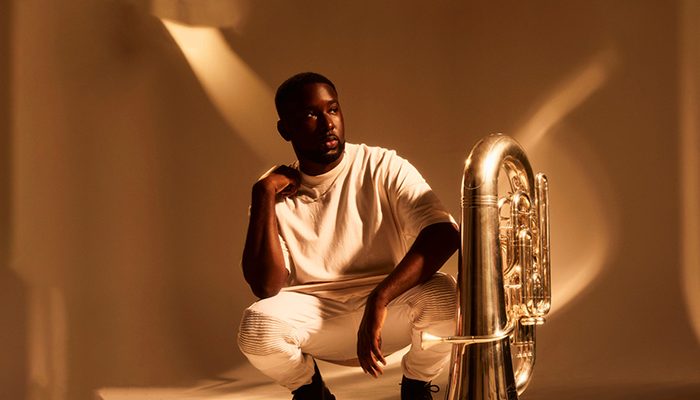 "a will to set any groove aflame… exuberant" – NPR
Theon Cross is one of those rare musicians whose vision has redefined their instrument. His unique approach to the tuba has expanded the instrument's sonic possibilities in a revolutionary fashion, restoring it to a long-forgotten prominence as a crucial part of the contemporary jazz ensemble. Through his combination of technical mastery, studio smarts, deep musical knowledge and expansive vision, the power and originality of Theon's playing has reinvented the tuba's place in modern music.
Exploring the tuba's possibilities in the light of diasporic bass culture – 'Afro-Diaspora Music' or ADM, as he calls it – Theon has worked to develop the full sonic spectrum of his instrument, transforming it into a total 21st-century sound system, powered by breath. Using the instrument's ability to produce sub-sonics, bass, mids, and tops, Theon creates complete sound worlds, building up from rhythm and bass to arrive at the melody.
The flexibility and power of his sound have made Theon an indispensable presence across the length and breadth of the current UK jazz scene, and he has collaborated on dozens of award-nominated and award-winning projects. Since 2013 Theon has been a core member of Sons of Kemet, with whom he has recorded and toured globally.
His most recent album, 2021's Intra-I (meaning 'Within Self') syntheses the diversity of his musical art and experience to deliver an essential message to a world gripped by tribulation. Across ten sonically divergent and bass-rich tracks, Intra-I explores themes of self-reliance, origins, identity and more. An exploratory and uplifting celebration of Afro-Diaspora Music, the album features songs that examine self-development, the importance of history and heritage, and the strength in adversity.
An independent artist since 2002, Dosh originally gained attention for his dazzling onstage multitasking—moving between drums, Rhodes, loop pedals, synths, mixers, and stomp boxes. His mostly wordless music spans hip-hop, jazz, electronica, funk, ambient music, R&B, and rock.
Recommended for Fans of Sons of Kemet, Ezra Collective, Makaya McCraven and Butcher Brown.
LEARN MORE: https://theoncross.com/