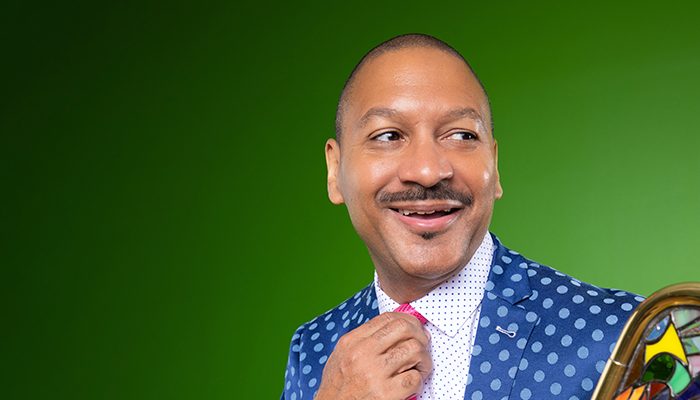 "beaming with Southern sassiness and exploding with exuberant force." – All About Jazz
As an acclaimed trombonist, composer, and producer, Delfeayo Marsalis has dedicated his prolific career to music theater and education. Along with the Marsalis family of musicians, including his father Ellis, the artist was destined for a life in music.
Marsalis has toured internationally with jazz legends such as Ray Charles, Art Blakey, Max Roach, Elvin Jones and Slide Hampton, as well as leading his own groups.
At the age of 17, Marsalis began his career as a producer. He has produced over 120 recordings, garnering one Grammy award and several nominations.
In 2008, he formed the Uptown Jazz Orchestra, a highly entertaining ensemble that focuses on maintaining important jazz traditions such as riff playing, New Orleans polyphony and spontaneous arrangements.
Delfeayo also formed the Uptown Music Theatre in 2000. UMT is a non-profit organization that empowers youth through musical theater training. He has written sixteen musicals to date based on historical events and/or uniting the community. In addition, he has composed over ninety songs that help introduce kids to jazz through musical theater and has reached over 5,000 students nationally with his Swinging with the Cool School soft introduction to jazz workshops.
Marsalis has a dual Bachelor's degree in Music Performance and Production from Berklee College of Music, and a Master's in Jazz Performance from the University of Louisville. A Doctorate has also been conferred from the New England College.
Recommended for Fans of Kermit Ruffins, Elvin Jones, Rebirth Brass Band and The Dirty Dozen Brass Band.
Learn More: https://www.dmarsalis.com/