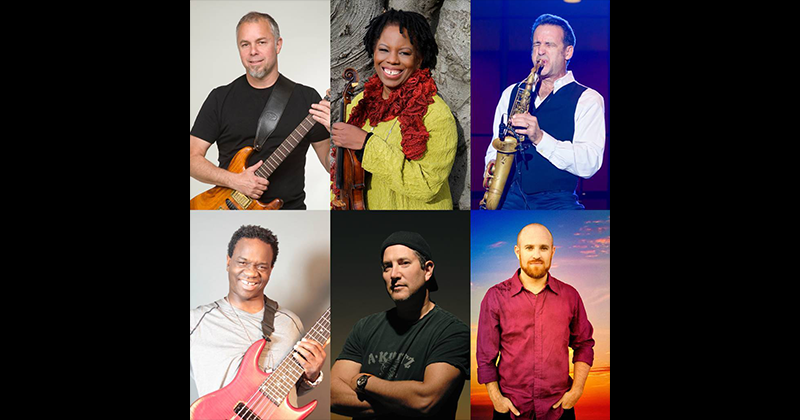 "Extraordinary range and technical finesse."
– JazzTimes
Grammy-nominated, chart-topping sensation Special EFX, spearheaded by guitarist Chieli Minucci and George Jinda, has helped to pave the road of contemporary jazz. The band produces a fresh mix of irresistible grooves filled with funky memorable hooks, lyrical head bopping melodies, and house inspired body shaking rhythms.
Chieli Minucci – guitar
Eric Marienthal – sax
Regina Carter – violin
Lao Tizer – keys
Jerry Brooks – bass
Joel Rosenblatt – drums
Combining Latin and African rhythms with the light textures of MOR jazz, Special EFX emerged as one of the most prominent world fusion groups of their era. Co-founded in 1982 by master guitarist Chieli Minucci and the late percussionist George Jinda, Special EFX helped pave the road for contemporary jazz in the 80s and continues to set the standard. The combination of Chieli's edgy & melodic driving style and George's sense for temperament and rhythm struck a perfect balance, and the rise of a distinctive new and original sound that incorporated heavy percussive world elements fused with smart, energetic, playful and memorable guitar lines was formed.
Eric Marienthal is a graduate of the Berklee College of Music where he studied with the legendary saxophone professor, Joe Viola. He has since gone on to perform in over 75 different countries, recorded 14 solo CDs and has played on hundreds of records, films, television shows and commercial jingles.
Violinist Regina Carter, a recipient of the MacArthur Fellowship Genius grant, combines dazzling technical proficiency and profound compositional and improvisational gifts with a fresh, aggressive approach to her instrument and a multicultural perspective, challenging preconceptions regarding the instrument.
Keyboardist Lao Tizer is one of today's rising stars of the world-fusion genre. Tizer's original music has spurred comparisons of a modern twist to the 1970s and early 1980s heyday of jazz fusion, when trailblazing ensembles like Return To Forever, Mahavishnu Orchestra and Weather Report set the aesthetic standard. Lao's music has a multi-genre, multi-national appeal and his group, The Lao Tizer Band, has toured the USA and the world while being nominated "Jazz Group of the Year"!  Their new 2018 CD/DVD combo release, Songs From The Swinghouse has received acclaim across the industry while debuting near the top of the Billboard Jazz Album Chart!
Learn More: http://chielimusic.com