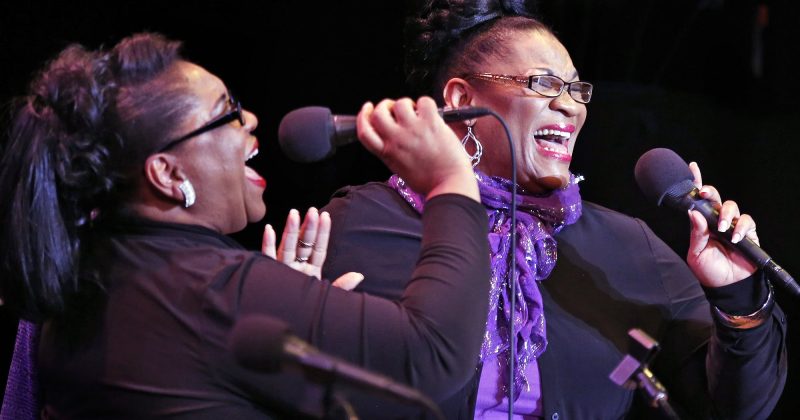 "an integral part of the Minnesota sound"
– MPR
Originally conceived as a three-part series "Healing Peace, and Joy" has been redesigned into a single evening of music that will be streamed at no cost to viewers as a gift to our community from Jearlyn, Jevetta and the Dakota.
The important musical themes of Healing, Peace, and Joy will be vividly brought to life in this 80-minute concert by these revered artists who bring their extraordinary talent and passion to every performance.
If you have purchased tickets to the February 10, 17 or 24 shows, you will automatically be refunded. 
TO REGISTER FOR THIS FREE STREAMING SHOW, CLICK HERE >>
Please note that the "artist gratuity" function below is still active. Jevetta and Jearlyn will receive 90% of all gratuities, and the Dakota is donating its 10% to the Debbie Duncan Legacy Fund. Learn more >>
The link to this streaming show will be emailed to you 24 hours before the concert and again, one hour before the concert start time.  If you do not see the link in your inbox, please check your SPAM and JUNK email folders. The show will be available to view until March 10, 2021.
For more than ten years, Jearlyn has been an Entertainment Reporter for Twin Cities Public Television's award-winning political show Almanac and hosts Talkin' Steele every Sunday night on CBS affiliate WCCO. Jevetta, a touring performing and recording artist with musicians such as Prince, Mavis Staples, George Clinton, and The Sounds Of Blackness, was nominated for an Academy Award for her performance of "Calling You" in the musical Baghdad Café.
The Steeles have been singing together since they were children growing up in Gary, Indiana where they began to develop their style and soul. Each came to Minnesota for different reasons; however, it is clear they were meant to be a part of the Minnesota sound. They have recorded and performed with Prince, Donald Fagen, Morgan Freeman, George Clinton, Mavis Staples, Johnny Lang, Peabo Bryson, The Five Blind Boys of Alabama, and others throughout their long and storied career.