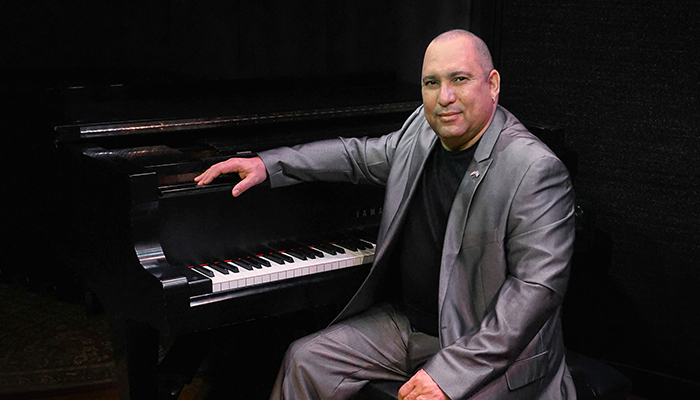 "One of the world's great Cuban pianists. [Nachito] blends jaw-dropping technique and rich, powerful soulfulness in an amazing display of musical power and emotion."
– TEDx Talks
Please note: the link to this streaming show will be emailed to you 24 hours before the concert and again, one hour before the concert start time.
Don't miss Nachito's Dakota homecoming! "The Minnesota place that means the most to Herrera, however, is the Dakota … Over the years, he has played there solo and with various combinations of musicians, including duetting with violinist Karen Briggs and leading the Habana All-Stars and the Universals."  – Star Tribune feature, "Minnesota pianist Nachito Herrera on surviving COVID-19"
50% of the $15 ticket price goes directly to the artist.
Join a special VIP Zoom Q & A. Those who include an artist gratuity of $50 or more will be invited to join a VIP Zoom Q & A with Nachito Herrera and Dakota co-owner Lowell Pickett
The gratuity can be added through a "GiveButter" button during the concert or when you finalize your ticket purchase for the streamed concert
90% of the added gratuity will go directly to Nachito!
The Zoom Q & A will take place Tuesday, Sep 29 at 7 PM and all those participating will receive an emailed invitation for the Zoom log-in.
"The Dakota is my musical house. I cannot live without the Dakota" -Nachito Herrera, Star Tribune feature
Ignacio "Nachito" Herrera is acclaimed as one of the world's greatest Cuban pianists in command of traditional classical and contemporary musical idioms. Nachito brings astounding technique and natural talent to compose explosive music that overwhelms the Dakota with powerful energy. We at the Dakota love to call him the "man with twenty fingers", hence the Classical to Cuban pyrotechnics description.