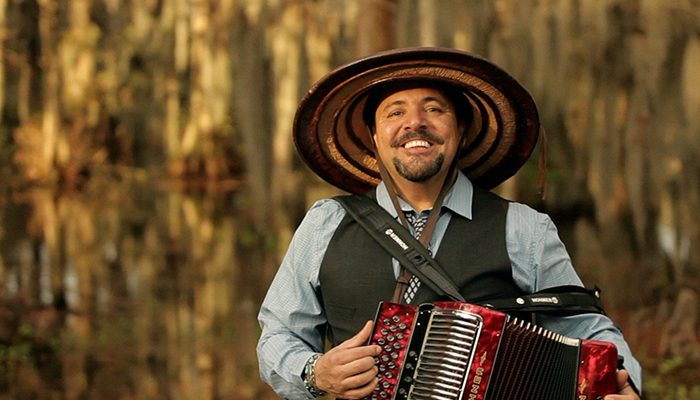 "the finest voice in Zydeco… sheer joy" – Acoustic Music
For over 40 years, two-time Grammy award-winning, 8th generation Louisiana Creole, Terrance Simien has been shattering the myths about what his traditional Zydeco roots music is – and is not. It most certainly is American roots music and it is music born of the black and mixed-race French-speaking Creoles of South Louisiana. It's exhilarating and as complex and diverse as the Creoles. It's also more than just one rhythm and one tempo.
Sure it's about dancing; "less dancing please", said no one ever! But it's also about grooving in place and dancing freely. It's definitely about the vocal performance as well. Terrance's lead vocals and the stunning three-part harmonies of he, Danny and Stan, are proof positive that vocal performances matter – a lot! Zydeco is dynamic and evolving – remaining relevant to allow its artists to express themselves within their genre without constraints.
Simien is as knowledgeable about this music genre as anyone alive today because he's now been touring and recording professionally, as a band leader for almost as long as any Zydeco artist in history! In fact, he's only one of a handful from a generation with a direct link to the pioneers of contemporary zydeco who, with the exception of the Queen, Ida Guillory, have all passed on.
Simien leads a highly skilled Zydeco Experience band with Danny Williams, keyboards, vocals; Stan Chambers, bass, vocals; Ian Molinaro–Thompson, drums; Revon Andrews, trombone; Orlando Gilbert, saxophone.
Simien has become one of the most respected and accomplished artists in American roots music today. He and his bandmates have performed over 10,000 concerts, and toured millions of miles to over 45 countries during their eventful career. They've shared studio and stage with legends the Meters, Art Neville, Los Lobos, Marcia Ball, the late Robert Palmer and Dave Matthews Band to name a few.
LEARN MORE: https://www.terrancesimien.com/