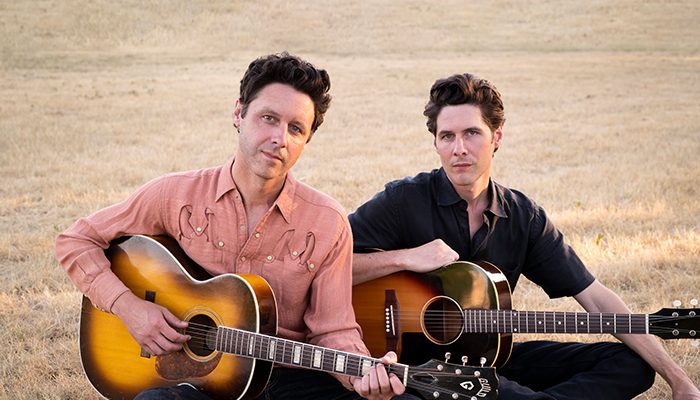 NEARLY SOLD OUT. Please contact the box office at 612-332-5299 for seating options.
"tightly woven harmonies." – New York Times
"Hey baby, do you wanna take a trip with me? / I've got a feeling there might be a silver lining all around." So begins 2022's One Day, the captivating latest album from critically acclaimed Minneapolis duo The Cactus Blossoms. Written and recorded during the COVID-19 pandemic, the record explores the tension between optimism and despair that's defined much of the past few years of American life, examining the power (or naïveté, depending on your perspective) of positive thinking in the face of chaos and uncertainty. The songs here are tender and timeless, with straightforward arrangements centered around brothers Jack Torrey and Page Burkum's airtight harmonies, and the performances are warm and intimate to match.
While The Cactus Blossoms have drawn frequent comparisons to other musical siblings like the Everlys and Louvins over the years, One Day often suggests a more soulful, '70s-inspired palette, hinting at times to Bobby Charles or JJ Cale with its playful Wurlitzer, breezy guitars, and lean, muscular percussion. The band's classic country and old-school pop roots are still there, of course, but the growth and evolution underlying One Day is obvious, not only in the duo's writing but in their core philosophy, as well.
The Cactus Blossoms broke out nationally in 2016 with their JD McPherson-produced debut, You're Dreaming. Dates with Kacey Musgraves, Jenny Lewis, and Lucius followed, as did raves from the New York Times and NPR, who praised "the brothers' extraordinary singing." The band was further catapulted into the spotlight in 2018, when David Lynch tapped them to perform in the return of Twin Peaks, and continued to build on their success with their 2019 sophomore LP, Easy Way, which led Rolling Stone to laud the duo's "rock-solid, freak of genetics harmonies."
Recommended for Fans of Margo Price, Justin Townes Earle, Rodney Crowell and Pokey LaFarge.
Learn More: http://www.thecactusblossoms.com/